Apple introduces Cards for iOS
14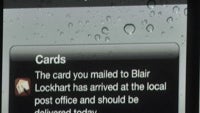 The Apple "Let's talk iPhone" event is live now and among the new iOS goodies is the exciting Cards feature. What's interesting about Cards is that it actually links your virtual life with reality in the form of greeting cards. Now, it not only lets you choose a card and customize it, but Apple will send it for you. That's not all - you also get a notification on your phone whenever the snail mail card arrives at the destination you sent it to.
It's really simple: "We'll print it out, put the address on it, and mail it. If you mail in the US, we can track it with the US Postal Service barcode, and we'll send you a push notification when it arrives."
Everything starts on your phone - you can choose between 21 preset designs. The rest remains Apple's work: "You create the card on your iPhone, and we'll do the rest." The application will be available in just a week - on October 12th as a free update on the App Store.