Could the rumored iPod Touch (2019) focus on gaming? Trademark suggests so
12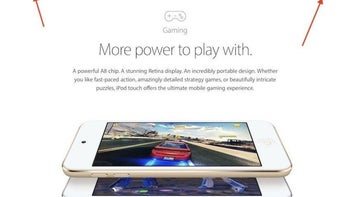 The 'iPod Touch' trademark has remained largely unchanged since it was first registered over a decade ago. But with rumors of a
seventh-generation iPod Touch
now floating around, it turns out Apple recently filed for an
extension
(
via
MacRumors
) to its trademark.

If the company faces no opposition and the updated trademark is granted later this year, the 'iPod Touch' branding will soon cover everything related to "Hand-held units for playing electronic games" and "Handheld game consoles," a product category more commonly referred to as International Class 28.
In order to justify this extension,
Apple
provided the screenshot visible above which clearly highlights the sixth-gen iPod Touch's gaming capabilities and name. It also points towards the 'Buy' button.
Currently, the iPod Touch already supports mobile gaming through an extensive range of iOS apps, so it's possible that this particular extension is simply a strategic move intended to avoid any possible lawsuits in the future. However, the fact Apple has waited over a decade to do so – the
App Store
was launched in 2008 – is extremely odd.

In actuality, it seems possible that, if launched later this year as rumored, the upcoming seventh-gen iPod Touch will focus more heavily on its gaming capabilities and less on its iTunes integration, as has been the case with previous generations. If accurate, this could be a big growth opportunity for the iPod line which has seen declining sales ever since the original iPhone was introduced in 2007.