Apple iPhone X unveiling shows us that BlackBerry 10 was ahead of its time
79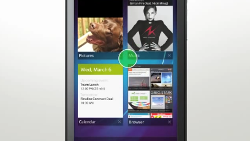 Yesterday, when Apple showed off some of the gestures that
Apple iPhone X
users will be doing in order to get back to the home screen, or to multitask, it might have brought back some memories for those of you who used to use, or still use, BlackBerry 10. That's right folks, the same swipe up from the bottom of the iPhone X screen that takes you back home at any time, is used to take you back home on the
BlackBerry Passport
!
Like the Apple iPhone X, the BlackBerry 10 models did not have a home button, which forced BlackBerry to come up with gestures to replace the functions that would have been handled by a press on the home button.
A number of tweets disseminated after the event took jabs at Apple, including one that read, "So #iPhoneX with no home button can do now what #BB10 did few years ago, swipe up to go home!" Another tweet praised BlackBerry for being ahead of its time. Apple also introduced a tap to wake feature on iPhone X, which is something that has been available on certain Android phones for some time.
Check out the two videos in the video slideshow below to see the introduction of tap to wake on the iPhone X, and the swipe up to go home gesture. The second video shows how BlackBerry 10 had that gesture first. In fact, the video was posted to YouTube in February 2013.
We should also mention that 2009's webOS, used on the
Palm Pre
, was a gesture centric OS. Flicking a "card" of an active open app off the screen to close it is a gesture still in use today by both iOS and Android. And the Nokia N9, launched in September 2011, was powered by MeeGo. The latter was another gesture based
source:
AppleInternational
,
BlackBerryHelp
via
CrackBerry