Apple iPhone 6s: the specs review
33
Ahh, nothing like a new iPhone reveal to get the tech press going! At a glance, the iPhone 6s has all it takes to enthral the masses and make Android competitors question their practices and beliefs harder than ever. After all, this is the smartphone they will be pushing against for the next 12 months, so they better have what it takes to whisk attention away from Apple's iOS centerpiece! Anyway, we'll be doing an initial review of the new iPhone's spec sheet, mostly taking a look at the improvements made in the smartphone's display, processor and camera components. These are the areas Apple accented upon most heavily, and for all we know, the iPhone 6s is every bit of an improvement over the very successful iPhone. Come on, let's have a look!
Design
Not much has changed on the surface since the iPhone 6 introduced an updated look with a laminated screen and comfortably round corners. This time around, though, Apple is beating its chest for incorporating Series 7000 aluminum instead of the anodized aluminum it's been traditionally using. Anodizing increases the material's resistance to corrosion and wear by adding an oxide layer outside of it. Combined with dye, the process is also used for coloring metal.
7000 Series aluminum, however, is a different alloy that combines aluminum, zink, and magnesium for a significantly tougher, but harder to work with material. Apple altered the recipe in unspecified ways, creating a material 60% stronger than most aluminum at one-third the density of stainless steel. The stuff is also used in the Apple Watch Sport, and hopefully, it's going to make the iPhone 6s less prone to damage such as, you know, bending and such.
At 5.44 x 2.64 x 0.28 inches (138.3 x 67.1 x 7.1 mm) the iPhone 6s matches the size of its predecessor. It's certainly one of the most reasonably sized smartphones around, even if the screen to body ratio of 66% isn't exactly an example of efficiency.
Display

Save from the addition of a pressure-sensitive layer, which we will refer to in a minute, the screen on the iPhone 6s is virtually unchanged from what the iPhone 6 brought to the table. This is a 4.7-inch panel with the odd-but-works-for-Apple resolution of 750x1334 pixels, which accounts for an acceptable pixel density of 326 pixels per inch. It's a fine example of an IPS LCD screen, even if its properties don't have the sheer impressiveness of Samsung and LG's Quad-HD displays, not to mention the Sony Xperia Z5 Premium's outlandish 4K screen. While we don't the have exact display measurements, we expect what has become typical of Apple screens — a tolerably cool color temperature, nicely evened out color balance, near perfect gamma response, and fantastic viewing angles. It is these characteristics, and not obscenely high pixel counts or super wide color gamuts that make for a high quality display, though we don't have anything much against the latter!

Now, about that 3D Touch thing we mentioned. Borrowed from the new MacBook's trackpad and the Apple Watch before it, the technology relies on tiny electrodes surrounding the display that let users deliberately choose between a light tap, a press, and a "deeper" press, triggering a range of specific controls. In the Apple Watch, we saw how pressing firmly on its screen brings up additional controls in apps and allows for additional interaction. Right now, the technology is merely being toyed with and emulated by other manufacturers, such as Huawei, but as a the first new frontier in interactive surfaces since multi-touch, its potential could expand to building fingerprint sensors and other interactive elements inside screens. It could potentially let Apple get rid of the home button one day, although removing such a long-standing element would have to be a very radical decision.



Processor and Memory
The iPhone 6s introduces a major hardware upgrade in the form of the new A9 chipset and an alleged increase to 2GB of RAM memory. The A9, which is fabricated by Samsung and TSMC's foundries, has not been properly documented yet. However, we know that the chip is produced on a 14nm or 16nm process, rather than the A8/A8X's 20nm process. Thanks to that, the A9 packs more transistors on the same surface area as the A8, theoretically boasting better performance and power efficiency characteristics.
Some early benchmarks
that originate from a Chinese source suggest that the A9 enjoys an around 19% jump over the A8, and a 6% improvement over the A8X in single-core performance, in addition to a 69% multi-core improvement over the A8 (8% from the A8X). That sounds like a steady growth in processing power, certainly in the ballpark of what could be expected of Apple. Moreover, we've heard that the A9 relies on a quad-core setup, with two cores pushed to 1.7GHz and two cores at around 1.2GHz. The A8X before it uses a triple core design, so this leap is certainly within the realm of possibility.
To provide another perspective, the Apple A9 could very well be in the same league as the 2009 iMacs, 2010 MacBook Pros, and 2011 MacBook Airs in terms of raw performance, yet more power-efficient to the point of not requiring external cooling. However, this is mostly speculation we're dealing here, so hold your horses until we're able to throw more reliable information your way!
Camera

The iPhone 6's camera setup has been eligible for an upgrade for a long time, and Apple finally delivered — a restrained, but certainly thought-out 12MP rear camera bump (up from 8MP), and a comparatively generous increase to 5MP for the front cam (from just 1.2MP). Photo quality improvements aside, the most notable new addition is 4K (3840x2160) video recording, which puts the iPhone's camcorder on par with Android flagships.

The 12MP imaging sensors are sourced from Sony, and there's little that we know about them at this point, other than that they incorporate RGBW subpixel technology for better low-light performance. This technology uses an extra white (W) subpixel, arranged alongside the RGB sub-pixels, to compensate for the smaller-sized pixels in the sensor. We've seen a sensor of this type in action with the Huawei P8, and we came off pretty satisfied with the way it handled itself across different scenarios. However, RGBW itself didn't make for stand-out photographic performance in any regard. It will be up to the ones responsible for the camera algorithms at Apple to make the most out of the camera sensor.






Battery life

The iPhone 6s has a battery at about 1500-1900mAh capacity. We don't know for sure at the moment, but we can't see Apple going beyond this capacity, given the smartphone's dimensions. Its predecessor managed to rack up a score of 5 hours, 22 minutes, which is far from the Galaxy S6 edge+'s impressive result, but still decent for most people. Unfortunately, the iPhone 6s Plus couldn't catch up to the fast charging developments of Android for some reason. Maybe Apple is being complacent. Maybe integrating fast charging or wireless charging comes at the expense of something else that's more valuable to the typical iPhone user. Only the gang at Cupertino knows, but regardless, fast charging tech is pretty high on our list of iPhone demands, and the same goes for any other up and coming expensive smartphone, actually!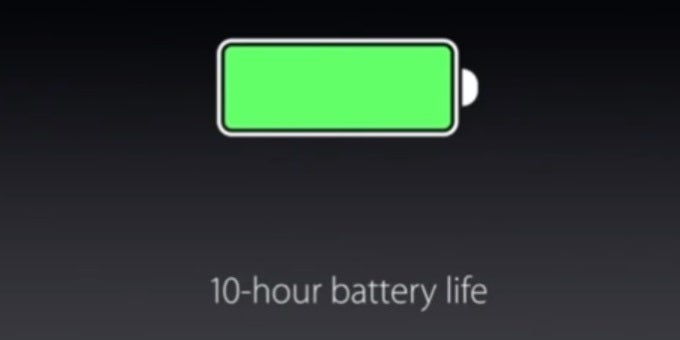 Conclusion
The iPhone 6s goes pretty far for what's considered an incremental upgrade by Apple standards. The increase in hardware and camera power is quite welcome, and the addition of Force Touch makes for a nice usability improvement, not to mention being a classic case of Apple introducing polished (hopefully) new technology for users and app developers to tinker with. For what it is, the iPhone 6s makes for a good, meaningful yearly upgrade over its predecessor.