Apple iPhone 6s country prices: and the highest tag goes to...?
52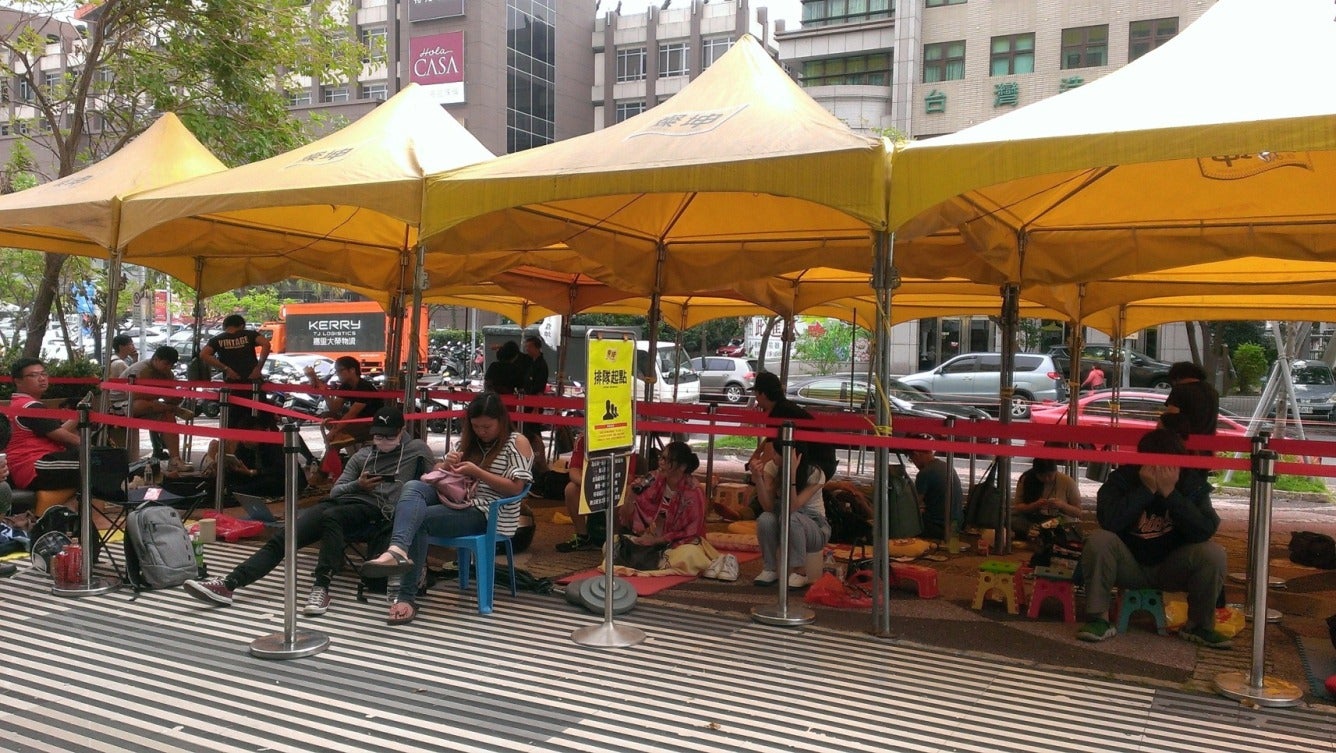 Apple iPhone 6s queue in Taiwan
Italy, Ireland, Netherlands, Spain, Sweden, and many more countries are seeing the
iPhone 6s
and
6s Plus
launch get released in the Apple Stores of their respective location today.
It's Andorra, Austria, Belgium, Bosnia, Bulgaria, Croatia, Czech Republic, Denmark, Estonia, Finland, Greece, Greenland, Hungary, Iceland, Ireland, Isle of Man, Italy, Latvia, Liechtenstein, Lithuania, Luxembourg, Maldives, Mexico, Monaco, Netherlands, Norway, Poland, Portugal, Romania, Russia, Slovakia, Slovenia, Spain, Sweden, Switzerland and Taiwan that are all getting the goods today, with a few others to follow either tomorrow (Bahrain, Jordan, Kuwait, Qatar, Saudi Arabia and United Arab Emirates), or on October 16th (India, Malaysia and Turkey), and, ultimately, to 130+ countries by year's end.
The second wave of availability rollouts brings with it some interesting price comparisons to be had. The stark difference in pricing is largely due to sales and import taxes, as well as exchange rate considerations, rather than price gouging by Apple, but it's still pretty dramatic to witness. Unfortunately, the new iPhones are still not for sale in Brasil, which is
notorious for the most expensive Apple gear
, but that omission will soon be remedied, too, and, from the looks of it, India and Russia won't be far behind in abominable pricing, when converted to USD. In fact, it's India, Russia and Norway taking the top three places from the ones we converted, with a $900+ starting price for a 16 GB iPhone 6s.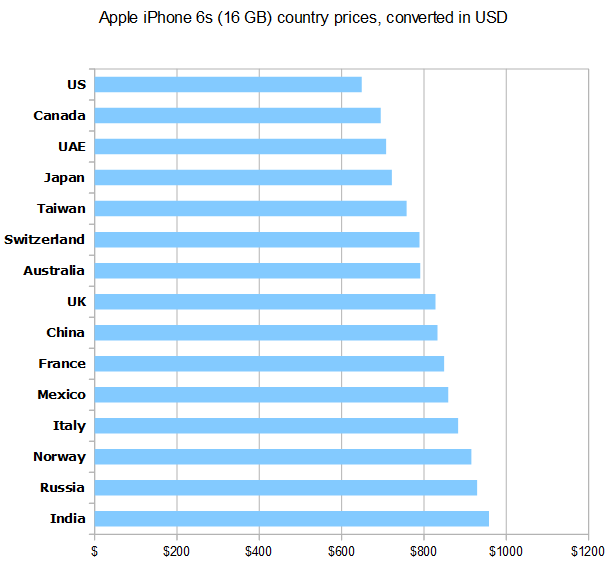 | | | | | | |
| --- | --- | --- | --- | --- | --- |
| | Apple iPhone 6s 16 GB | Apple iPhone 6s 64 GB | Apple iPhone 6s Plus 16 GB | Apple iPhone 6s Plus 64 GB | Apple iPhone 6s Plus 128 GB |
| US | $649 | $749 | $749 | $849 | $949 |
| UK | $828 (£539) | $951 (£619) | $951 (£619) | $1074 (£699) | $1213 (£789) |
| China | $833 (RMB 5,288) | $959 (RMB 6,088) | $959 (RMB 6,088) | $1085 (RMB 6,888) | $1228 (RMB 7,788) |
| Italy | $883 (€779) | $1008 (€889) | $1008 (€889) | $1131 (€999) | $1256 (€1109) |
| France | $849 (€749) | $974 (€859) | $974 (€859) | $1099 (€969) | $1224 (€1079) |
| Canada | $695 (C$899) | $796 (C$1029) | $796 (C$1029) | $897 (C$1159) | $997 (C$1289) |
| Australia | $791 (A$1079) | $900 (A$1229) | $900 (A$1229) | $1010 (A$1379) | $1120 (A$1529) |
| Japan | $722 (¥86800) | $822 (¥98800) | ¥98800 | $922 (¥110800) | $1022 (¥122800) |
| India | $958 (₹62000) | $1112 (₹72000) | $1112 (₹72000) | $1267 (₹82000) | $1420 (₹92000) |
| Norway | $915 (NOK 7390) | $1051 (NOK 8490) | $1051 (NOK 8490) | $1188 (NOK 9590) | $1324 (NOK 10690) |
| Switzerland | $789 (CHF 759) | $914 (CHF 879) | $914 (CHF 879) | $1039 (CHF 999) | $1163 (CHF 1119) |
| UAE | $708 (Dh2599) | $817 (Dh2999) | $817 (Dh2999) | $925 (Dh3399) | $1034 (Dh3799) |
| Mexico | $859 (MXN $14099) | $993 (MXN $16299) | $993 (MXN $16299) | $1127 (MXN $18499) | $1261 (MXN $20699) |
| Russia | $929 (‎₽56990) | $1075 (‎₽65990) | $1075 (‎₽65990) | $1223 (‎₽74990) | $1368 (‎₽83990) |
| Taiwan | $758 (NT$24500) | $881 (NT$28500) | $881 (NT$28500) | $1005 (NT$32500) | $1129 (NT$36500) |