Apple iPhone 6s Plus vs OnePlus 2: in-depth specs comparison
10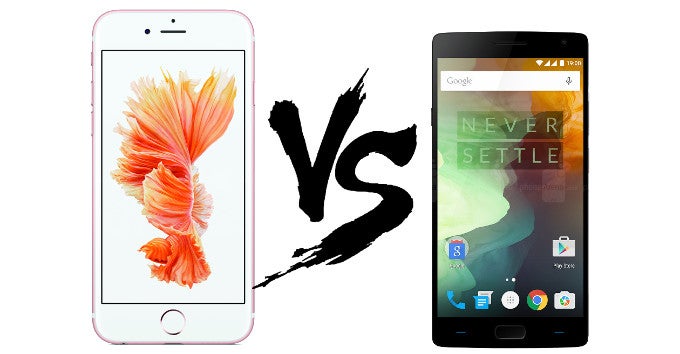 Apple's first refresh to its first ever phablet is now a fact: the iPhone 6s Plus will be hitting stores before the month is out, and we expect a torrent of people will be reaching in its direction by default. Some, however, may want to do some further reading before committing, and that's where we come in.
Popular among the techies within the Android crowd, the OnePlus 2 is almost like the antithesis of Apple's iPhone 6s Plus, as it was designed to offer an incredibly sounding bundle of hardware on a budget, whereas iPhones have been consistently expensive (relatively speaking) while lugging around specs sheet that don't read as great. As should be obvious by now, however, for a number of reasons — including the less demanding OS — iPhones have been performing incredibly well across the board despite the
seemingly
modest hardware packed within. Let's dig deep and see how they stack up against the OnePlus 2's.
Design
Sticking to the same strategy established with previous iPhones, the 6s Plus — like a true 's' iPhone — doesn't bring much to the table in way of design changes. We're still looking at a giant, rectangular, and heavier iPhone 6 Plus with pleasantly rounded corners and an extremely thin, 7.3 mm body. The signature, circular Home button is still found at the front, and it still incorporates Touch ID for fingerprint authentication. While we're not big fans of the horizontal antenna stripes seen at the back, it's nevertheless comforting to see that Apple is sticking to an aluminum unibody that now also comes in Rose Gold and is apparently tougher than before.
Turning to the OnePlus 2, we're looking at a markedly different device. Also a rounded rectangular in shape, the edges of the 2 are nevertheless not as aggressive. The phone is encased within a metal frame that feels rock solid, with rather flush, but clicky, volume and power keys on the right, while a 3-step switcher is available on the left. Unlike the iPhone's mute switcher, the OnePlus 2's toggles between a Do Not Disturb/Priority Notifications and normal. Up front, we've got a touch-enabled Home key, which also integrates a fingerprint scanner, surrounded by two capacitive buttons on the each side. For the back, OnePlus is using a sandstone-like cover that is pretty rough to the touch, but reassuring once you get used to it.
Beauty is in the eye of the beholder, they say, but we're definitely liking the iPhone 6s Plus' exterior more on the whole. Perhaps the biggest letdown with the OnePlus 2 is the supposedly more durable, but less fancy sandstone cover, though we're not big fans of the peculiar placement of the camera, either.
Display
While neither of the two companies lists the manufacturer of the IPS displays used with their respective devices, they're nevertheless identical on paper: 5.5-inchers with 1080 x 1920 resolution. That's enough for 401 pixels per inch, so you can expect sharp image at all times.
In any case, it'll be a while until we can be certain which of the two screens is the better calibrated one. In terms of brightness, however, unless Apple dropped the ball and ships the 6s Plus with a dimmer panel, it is likely that the iPhablet will match or exceed the OnePlus 2's peak of 564 nit brightness.
Interface
Having graduated from its Beta stint, Apple's updated iOS 9 operating system is now ready for the public and was announced concurrently with the iPhone 6s Plus, on which it'll be available out of the box. Among the many new features and improvements are a revamped Spotlight search which can now look within apps, a contextually aware Siri, battery optimizations, and smaller install sizes for apps. The definitive highlight, however, is 3D Touch, which combines hardware and software goodness to add an extra layer of functionality to iOS. Thanks to it, the touchscreen of the iPhone 6s Plus can tell between light and hard taps, and the software reacts accordingly. For example, you can hard press on native and (soon) third-party apps to summon a context menu, which will let you carry out pre-defined tasks like starting navigation to your home.
Moving to the OnePLus 2, it first needs to be said that comparing iOS to Android has always been a difficult task, and this issue is only compounded by the fact that the OnePlus 2 doesn't even come loaded with just a stock version of the software. Instead, the company's Oxygen OS offers a defining layer of proprietary features that add on top of the user experience. Standout perks include double tap to wake functionality, gesture support and themes.
Processor and memory
Like a clockwork, Apple has been updating the chipset powering its latest iPhone(s) every year, and today's releases are no exception. Fitted with the company's new A9 chip, you're looking at a dual-core deal that supposedly manages to outperform the A8 chip in the iPhone 6 Plus by 1.8x and 2x on CPU and GPU tasks, respectively. Apple says that the new 64-bit chip also offers twice the memory bandwidth and twice as fast access to storage.
In OnePlus' camp, we've got the temperamental, 64-bit Snapdragon 810 from Qualcomm, with eight cores working in two clusters of four. One of them features frugal cores clocked at low frequencies, often tasked with taking care of more trivial background tasks, while the other brings together the four powerful cores that kick in when maximum performance is required. The GPU bundled with the chip is Qualcomm's Adreno 420, and there are also 4 gigs of RAM on board.
Camera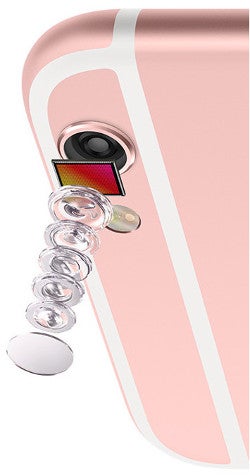 Certainly a highlight of the iPhone line, the
f
/2.2 iSight camera strapped on the back of the 6s Plus has seen some notable improvements. For starters, the sensor now packs 12 megapixels — 50% more than its predecessor — while supposedly retaining the same great quality. This is important, as mindlessly adding megapixels is not the answer. Those pixels need to be large enough.
The 6s Plus has quite a few more perks up its sleeve, including 4K and 1080p @ 120FPS slow motion video recording, both for the first time. What's more, unlike its predecessor, the newer iPhone actually utilizes the available optical stabilization gizmo with video. Finally, the front-facing cam has also seen notable improvements: it's now a 5-megapixel unit, and it can actually work in conjunction with the display to provide a makeshift flash by blinking it twice in quick succession. This gives you something along the lines of a TrueTone flash, as the display will project a solid color in line with your surroundings to correct for the sudden burst of light.
As for the OnePlus 2, the configuration available is also not to be underestimated. We've got a more standard, 13-megapixel unit with
f
/2.0 lens and optical stabilization. Like the iPhone 6s Plus, the OnePlus 2 can also shoot in 4K, though slow motion video at 120FPS is limited to 720p resolution. As for the camera up front, we've got an identical (in terms of resolution) sensor with 5 megapixels.
Battery
Apple cites the same battery life stats for the iPhone 6s Plus as it did with the iPhone 6 Plus: up to 24 hours of talk tiem on a 3G network, 14 hours of video playback, and 80 hours of audio. The exact capacity of the non-removable cell nestled underneath the display remains unclear, though it's worth pointing out that the iPhone 6s actually seems to have a slightly smaller battery than its predecessor (95 mAh less, to be precise). This could mean that the iPhone 6s Plus has also suffered a similar fate and packs a juicer with capacity under 2,915 mAh.
The OnePlus 2's thicker profile allowed the company behind it to fit a notably larger, 3,300 mAh battery, though that one only managed 6 hours and 38 minutes on our proprietary battery life benchmark. Still, that's still essentially identical to the 6 hour 32 minute score achieved by the iPhone 6s Plus' predecessor.
Expectations
Despite costing significantly more if bought outright, the iPhone 6s Plus will likely be mostly moved through carriers who sell it with a 2-year contract for $299. Compared to the $389 you'll have to whip out for the OnePlus 2, that's still cheaper, though that extra $90 means you'll be under no contractual obligations. In other words, it's fair to say that the iPhone 6s Plus is the significantly more expensive buy.
Still, Apple has the massive advantage of a well-established, well-functioning network for retailers that carry its products, while OnePlus only sells its wares through its e-store, severely limiting its exposure. In other words, we're not at all worried about the OnePlus 2 making a dent in iPhone 6s Plus sales, and you shouldn't be either.