Apple iPhone 6s Plus unboxing
17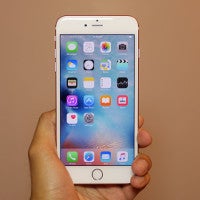 Big phones are big business, Apple undeniably realized that when they introduced its largest iPhone to date last year with the iPhone 6 Plus. With all of the acclaim and success that surrounded it, there's no going back now, as its successor no doubt makes that an undeniable reality. The delivery person just dropped off the iPhone 6s Plus at our front door, so we're super stoked to see what this year's new offering has to provide.
Right from the onset, the most noticeable change to the typical Apple iPhone packaging is seen on the front of the box, seeing that the colorful wallpaper inside of the phone's outline helps to give the otherwise minimalist packaging a livelier look. Indeed, it's no surprise that the box is bigger than that of the standard iPhone 6s box – that's because we're dealing with a bigger, more substantial phone here. Besides that, everything is in typical Apple form.
Well, it comes to no surprise what's all embedded inside of the box. To anyone who has picked up any of the iPhones past, you'll be familiar with the included goodies that come in tow with the iPhone 6s Plus – that consists of the Apple decals, documentation, Lightning cable, wall charger, and the earpods. All of them, naturally, arranged in the way to occupy as much of the space as possible within the box.
From a technical standpoint, the iPhone 6s Plus is the superior phone, as it's accompanied with a 'better' specs sheet. The competition has been fierce this year, and as we head into the heated holiday season, it'll be interesting to see how much more of a firm grip will the iPhone 6s Plus have in the phablet world. We've seen some outstanding offerings, the Samsung Galaxy Note5 being one of them, so it's going to be intriguing to see how Apple's newest phablet will be able to keep pace with the heavy hitters.
Invalid image meta