Apple iPhone 6 vs Samsung Galaxy Alpha: in-depth specs comparison
42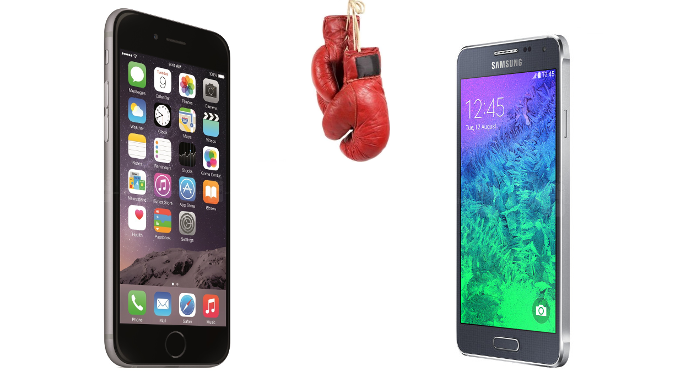 When Samsung announced the Galaxy Alpha, few had any doubt that the electronics giant is not just strengthening its portfolio -- it was also preparing to face off the iPhone 6. Looking at the Galaxy Alpha, that makes a lot of sense -- the phone has 4.7-inch screen like the iPhone 6, and it is one of the manufacturer's most premium handsets to date with its metal frame and leather-like, soft touch rear. The hardware specs also rightfully position the Alpha at the higher end of the spectrum.
But is that enough to handle what the just-announced iPhone 6 has in store? Let's take a preliminary look.
Design
Starting off with design, it's hard not to appreciate what both devices have in store for us. The iPhone 6 has undergone moderate design changes, and can now be likened to the 5th generation iPod Touch, with a rounded, comfortable-to-grip frame. In comparison, the Galaxy Alpha's sides are rectangular in shape, but that doesn't actually detract from the handling experience from what we've observed in our time with it. And though both devices measure the same when looking at their displays, the Galaxy Alpha is actually more efficient when it comes to its physical footprint -- 5.21 x 2.58 x 0.26 inches (132.4 x 65.5 x 6.7 mm ) versus 5.44 x 2.64 x 0.27 inches (138.2 x 67.1 x 6.9 mm) for the iPhone 6. This makes the Alpha shorter, narrower, and thinner, not to mention that it's also lighter (4.06 oz / 115 g versus 4.55 oz / 129 g).
As already mentioned, the Galaxy Alpha is one of Samsung's most premium devices, but when it comes to the materials used with both phones, the iPhone 6 still has an edge over it, thanks to its all-aluminum unibody.
Display
In the past, whenever we've had to put an iPhone next to a Samsung Galaxy flagship phone, the display section has traditionally been one of contrasts. And not just in terms of screen size, but also pixel density. Interestingly enough, when the iPhone 6 and the Galaxy Alpha are concerned, the above status quo of old no longer holds.
Indeed, we now have two devices that are tied in terms of screen real estate, as both flaunt 4.7-inch displays, though the specific make is different -- Apple is sticking with IPS LCD tech, while Samsung is making use of one of its Super AMOLED units. As for the resolution, the iPhone 6's resolution of 750 x 1334 actually has a hand over the 720 x 1280 resolution of the Galaxy Alpha, at least in terms of pixel density (326 vs 312 ppi). Of course, a gap of this size is essentially negligible, and both screens will look sharp enough to you when viewed from a normal distance.
Interface
As per Apple tradition, the latest iteration of its iOS platform first becomes available with a new iPhone's release. As expected, this is also the case with the iPhone 6, which comes pre-loaded with iOS 8. As some of you may already be aware, the latest version of Apple's mobile platform is focused pretty much exclusively on new features and tweaks to older ones.
To name a few examples, the keyboard in iOS 8, dubbed QuickType, will offer predictive word suggestions and learn from your chats with people in order to better anticipate what you want to type next. The notification bar in iOS 8 is also improved, and now allows you to action notifications right from the bar itself, and also even offers widget support. Last, but not least, the Touch ID fingerprint scanner is now available to third-party developers for use in their apps, and, on a related but different note, you can now use it in concert with the new Apple Pay service, which allows you to pay with your iPhone 6, without ever having to whip out your credit card again.
Looking at the Galaxy Alpha, we've got the very latest update of Android -- 4.4.4 KitKat -- with Samsung's custom TouchWiz UI slapped on top. We'll admit right away that aesthetics aren't the strongest suit of the Alpha's software, but it has to be pointed out that TouchWiz has nevertheless undergone very positive changes in the last half a year, and is now far more pleasing to look at. In any case, it's fair to say that Samsung allocates significantly more resources to functionality, and there's simply no denying that TouchWiz is still the most feature-filled custom interface in Android world. Most of it is pretty useful -- Smart Stay, for example, will not allow your Galaxy phone to go to sleep if you're looking at it -- but a fair amount of features are also rather gimmicky.
Processor and memory
Like iPhones past, the iPhone 6 also comes with a new processor that is even faster than the one before it. Dubbed the A8, the 20 nm, custom-designed 64-bit chipset (based on ARMv8 architecture) has two cores and makes use of still-unknown graphics processor. According to Apple, the new configuration is 25% and 50% faster (CPU/GPU, respectively) than what you had with the iPhone 5s, and that's obviously welcome news, especially since the jump in resolution may have had some people concerned that the iPhone 6 may run slower. Unfortunately, Apple hasn't yet shared the exact amount of RAM available with the iPhone 6, though the consensus seems to be 1GB.
As for the Galaxy Alpha, we again have something special -- Samsung's own Exynos 5430 octa-core chipset. This also is the first 20nm chip in Samsung's portfolio, and it's packing two clusters of four cores, arranged in a big.LITTLE configuration. What that means is that the chipset can make use of just the four 1.3GHz Cortex-A7 cores unless performance is needed and it detects a need for more power and turns on the four 1.8GHz Cortex-A15 CPUs. That's right, like the Exynos 5422 before it, the 5430 is also HPM-enabled, so all eight cores can be switched on at the same time for maximum performance. As for the amount of RAM available, the Alpha has a 2GB unit on-board.
Camera

Apple simultaneously surprised everybody and nobody with its announcement that it will, once again, stick to an 8-megapixel sensor. In case you are not aware, the company has been very conservative in this regard, and continues to refuse to chase megapixels, opting instead for improvements in the the optics and software algorithms behind its cameras. That's precisely what the company claims to have done with the iSight camera on the iPhone 6. The technical spec sheet lists a five-element lens with an f/2.2 aperture and a two-tone LED flash. The camera on the iPhone 6 can't shoot 4K UHD video, but it can capture slow-moes at the record-setting 240 framers per second at 720p resolution.
With the camera unit on the Galaxy Alpha, we're looking at a 12-megapixel ISOCELL sensor of Samsung's own make, with an f/2.2 aperture lens and a single LED flash. The unit can shoot 4K UHD resolution clips, along with 1080p clips at 30 and 60 frames per second (FPS), and even slow-moes at 720p resolution and 120 FPS.
As for the cameras at the front of the iPhone 6 and Galaxy Alpha, we're looking at a "new" FaceTime HD (720p) camera with an "all-new" sensor with f/2.2 lens with the former, and a 2.1-megapixel snapper with unknown aperture with the latter.
Expectations
The line between an Apple and Samsung phone has never been as blurred out, and that can mostly be attributed to the similarities in design and screen size between the iPhone 6 and the Galaxy Alpha. Overall, the Alpha has the upper hand when looking purely at specs, but that's a deceptively simplistic approach that is usually just not representative enough of the real world experience of a phone -- any phone.
Of course, it's too early to produce a clear winner, as we've only had the chance to play around with the Galaxy Alpha at this point, but it's certainly looking like the two will be tied on a number of fronts, and trade non-conclusive blows on others. This, more than likely, means that for many it'll come down to deciding whether they're an iOS or Android person, or, alternatively, an Apple or a Samsung fan.