Apple iPhone 6 dimensions (4.7-inch model) confirmed by manufacturing mold?
51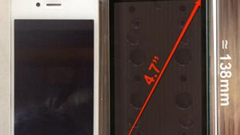 Over the week-end, we showed you a few images that purportedly depicted a
manufacturing mold for Apple's upcoming iPhone 6
. It's said that the images came from Foxconn, the Taiwan-based company that makes iPhones for Apple (among many other things).
Now, French website Nowhereelse published a new photo (see below) that shows another manufacturing mold, this time compared to a white iPhone 4S. The presence of the iPhone 4S, plus the fact that the mold is allegedly made for the 4.7-inch iPhone 6, allowed Nowhereelse to calculate the approximate dimension of the upcoming Apple handset: 138 by 64 mm (5.43 by 2.51 inches). The thickness of the smartphone can't be determined for now.
At 138 x 64 mm, the
iPhone 6
would be significantly larger than the
iPhone 5S
(123.8 x 58.6 mm), and, obviously, also much larger than the
iPhone 4S
(this measures 115.2 x 58.6 mm).
Of course, we need to keep in mind that we can't know how legit these images are. But it's worth mentioning that Nowhereelse has a pretty good track record when it comes to Apple-related leaks.
Apple is expected to announce not just a 4.7-inch iPhone 6 later this year, but also a model that reportedly sports
a 5.5-inch display
. Both will allow the Cupertino company to (finally?) offer customers
what they seem to want
: smartphones with really large displays.