Apple iPhone 6 conference video was faked; here's how it was done
37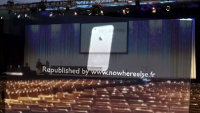 On Saturday, we showed you a video of an empty conference room at the Moscone Center as workers were quickly setting up the venue for WWDC 2014, which starts tomorrow. What made the video interesting was the image of the
Apple iPhone 6
that was apparently being projected onto a screen in front of the room. This made it
look as though Apple was going to be making a presentation for the new iPhone
, sometime from June 2nd through June 6th.
But as we've cautioned many times, it always pays to be cynical around this time of the year. As it turns out, the video was actually a forgery made up of two different parts. A picture of the conference room was posted by Reddit member "likesthings," which he found on Google. He matched up the photograph and it perfectly fit with one of the frames of the video.
With this information, we can obviously conclude that the forger took a video of a WWDC conference room, and added pictures of the iPhone 6 mockups that have been making their way around the web. This way, he created the illusion that Apple would be introducing at least one of its new iPhone models this coming week.
While Apple might not be showing off the iPhone 6 at WWDC, there is still
the possibility that the long-awaited Apple iWatch will be making an appearance in the Moscone Center
this week. Banners being placed at the venue confirm that
iOS 8 will be introduced at the developer conference
.
Thanks for the tip, Radu!
source
Reddit
via
GSMDome