Apple iPhone 6 and 6 Plus full price and release dates in the US, UK, Germany, France, Japan and others
14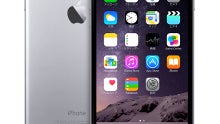 Did you know that the
iPhone 6
/
Plus
full retail price in Italy is not for the faint of heart? Well, it is, but the off-contract 128 GB 6 Plus pricing can also induce tremors in all other places, and we have gathered the prices of the two new iPhones in different countries below. Also, in some countries the release date is listed as September 26th, as opposed to the official September 19 date here in the US.
Starting with the US, we blast off at $650 without a contract, for the 16 GB iPhone 6, all the way up to $949 for the 128 GB iPhone 6 Plus. In Europe they typically start at EUR 699, respectively, going up to EUR 999 for the most expensive 6 Plus. Well, save for France and especially Italy, where all prices are jacked up higher with a ten... or a few tens.
The iPhone 6 in UK takes it from 539 pounds sterling with VAT, while China still hasn't received a full retail pricing for the two new iPhones, although they are prominently featured on the local Apple Store site there. Check out the iPhone 6/Plus prices in the US and around the world in the slideshow below.
When it comes to the release date, the carriers just started preorders September 12th, which will be followed by a September 19th launch in 10 markets: U.S., Australia, Canada, France, Germany, Hong Kong, Japan, Puerto Rico, Singapore and the U.K. A week after, on September 26th, the iPhone 6 and 6 Plus will be available to order in 18 other markets - Switzerland, Italy, New Zealand, Sweden, Netherlands, Spain, Denmark, Ireland, Norway, Luxembourg, Russia, Austria, Turkey, Finland, Taiwan, Belgium, Portugal and the United Arab Emirates, with others to follow suit soon.