Apple iPhone 5S specs review
68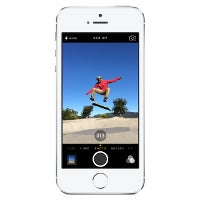 Ah, the Apple iPhone 5S has finally been unveiled, and it's about to hit the market on September 20. The new iDevice seems to be extremely powerful in terms of hardware, but it also packs some very interesting new features like the Touch ID sensor that enables fingerprint security. It would be an understatement to say that we're excited about this phone, as we simply can't wait to put our itchy fingers on it. Still, before we commence with our physical experience with the new iPhone 5S, it'd be better if we make sure that we've gotten the theory learned by heart. That's why it wouldn't hurt if we go through all the hardware and software features of the iPhone 5S one more time, and if you happen to have missed a part of our coverage (shame on you!), consider this an opportunity to catch up.
Design
Since this is an 'S' generation, the iPhone 5S is supposed to have exactly the same exterior as the iPhone 5, right? Well, think again, because the 5S actually features a number of visual improvements compared to its predecessor. The main design concept has been retained, but the iPhone 5S has a brand new home button design, which looks particularly fancy. In addition, the color variations have been changed — the 5S will be offered in black/grey, white/silver and white/gold, all of which being extremely good-looking. By the looks of it, Apple has slightly altered the black version's color scheme, so that the metal part (including the frame of the phone) is a bit lighter (in terms of color), making for a more contrasting and appealing color scheme.
Other than that, the design is pretty much the same, with the rear camera located in the upper-left corner, though this time, the snapper is accompanied by a special kind of dual LED flash.
Display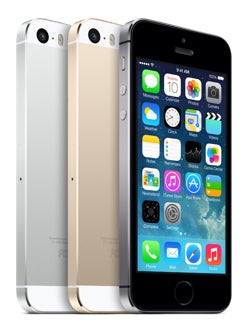 If you though Apple's going to install a 1080x1920 resolution display on the new iPhone 5S, well, think again! The 4" IPS LCD screen will retain its 640x1136 pixels resolution, making for a
pixel
density of 326 ppi. Now, this isn't as high as what you can find on the newest Android flaghships, which often cross the 400+ ppi mark with their 1080p displays, but we should remember that the iPhone's screen resolution is already high enough to allow for a comfortable reading and viewing experience. Yes super-fine details won't be as clear as on a 1080p screen, but do we really need such type of clarity? Plus, we should keep in mind that higher resolution equals poorer performance and shorter battery life, so we should definitely think again before asking for a 1080p res on a screen that is already super-clean.
Resolution isn't everything, though, and while we're yet to see the iPhone 5S's display in person, we're absolutely sure that it'll be just gorgeous. Based on the familiar IPS LCD technology, we expect the screen of the 5S to be accurate, vivid and plenty bright.
Interface
The Apple iPhone 5S will ship with the new iOS 7 operating system, which, as you've probably heard, is the first iOS version with a brand new user interface. The core ideas are basically the same — but the whole system looks very different from the current skeuomorphic design. iOS has become more abstract and cleaner in a bid to become more recent with the times.
In terms of features, iOS 7 is also introducing a bunch of intriguing things, such as the control center pull-up menu, which provides quick access to frequently used toggles and options, such as brightness, Wi-Fi/Bluetooth connectivity and others.
A really interesting new feature of the iPhone 5S is the so-called Touch ID fingerprint sensor, which will be used for enhanced security and some other cool stuff. For example, you'll be able to unlock your perfectly secured iPhone 5S just by touching its home button. Since the device will know that it's you and no one else, it'll simply let you access the OS without your having to enter a passcode or anything like that. Another useful application of the fingerprint sensor is for iTunes purchase authentication. Now, instead of having to enter your iTunes password each time you want to buy an app, game, song, or anything else, you'll be given the option to simply touch the home button of the iPhone 5S, and it will immediately pass the authentication process - quickly and effortlessly!
Processor and Memory
Speaking of the software, we should absolutely mention that the Apple iPhone 5S is going to be the first smartphone with a 64-bit processor, and iOS 7, along with all the built-in apps is going to be optimized to take advantage of that. Hopefully, all of this will lead to a better overall system performance. It's interesting to note that Apple says the so-called A7 chip in the iPhone 5S has a CPU that is up to 40 times faster, and GPU that is up go 56 times faster than those of the original iPhone. This doesn't give us much information about the actual performance of the 5S, but at least it's a cool fact to know.
When it comes to internal storage, the iPhone 5S comes with the usual capacities of 16, 32 and 64 GB - nothing out of the ordinary here. As always, there is no microSD card slot, so you won't be able to expand your internal storage even further in the future.
Camera
Interestingly, instead of bumping the camera megapixels to 13 MP from the current 8 MP, the company has decided to keep the megapixel count but increase the size of the pixels themselves, along with the aperture (now f/2.2), which should allow for brighter and cleaner images. Other interesting features of this new camera include the dual-LED flash, which isn't just a normal dual-LED flash. Actually the new light has an amber color and will be used to fix the color temperature of photos taken in not-so-wonderful lighting conditions. It really sounds like a great feature this camera.
Naturally, it also knows how to do 1080p video recording, but it can also shoot a 120 fps slow
motion
video, which can produce some neat, eye-catching effects. Another new video-recording extra is ability to zoom up to 3 times while filming, which doesn't seem like a great option, but nevertheless - it's there.
Release Date, Price and Expectations
Apple has always announced exact release dates for its products, and the iPhone 5S is not an exception. The handset will go on pre-order as soon as September 13, while the iPhone 5S release date itself will take place on September 20.
Pricing is also your standard affair. If you're ready to pay for a new two-year contract, the iPhone 5S is going to cost you $199 for the 16 GB model, $299 for the 32 GB one and $399 for the 64 GB one. That's the way it'll be offered by AT&T, Sprint and Verizon, while T-Mobile will sell the unlocked model at $649 for 16 GB, $749 for 32 GB and $849 for 64 GB - none of which tied to a contract.
We're definitely looking forward to reviewing the Apple iPhone 5S. You can rest assured that this is going to happen very soon, so that you'll know exactly what advantages and disadvantages come along with the iPhone 5S. Apple's newest flagship smartphone is extremely appealing, and we're sure that it's going to straighten the users' confidence in Apple. Stay tuned for our iPhone 5S review, which is going to put the device's screen, camera, software and pretty much anything else to the test!