Apple iPhone 5C specs review
24

Like it or not, the iPhone 5C is now official and it is exactly the smartphone that rumors have been describing for months – a plastic-made, trimmed down, slightly cheaper version of Apple's iconic handset. Seriously, there was little that we didn't know about the handset weeks ahead of its announcement. But despite the rumor mill spoiling the surprise as usual, it is our obligation to give the iPhone 5C a chance to make a name for itself. And taking it through a specs review is clearly on our "To Do" list. So let's begin!
Design
Obviously, Apple has taken a slightly different than usual approach with the iPhone 5C. While the shape, size, form factor, and button placement scheme on the device have not changed much, the build materials for the device are different from what we're used to associate an Apple product with. To be more specific, the back of the iPhone 5C is made from a single piece of hard-coated polycarbonate. Now, glossy plastic is far from the most premium material we've ever seen used in the construction of a smartphone, but in the iPhone 5C's case, it does have its advantages. For starters, it would be less susceptible to scratching than, let's say, the iPhone 5's aluminum panel (which is really easy to damage, by the way). The casing would also be rigid enough to withstand light abuse as it is reinforced from underneath by steel elements – great news indeed. Besides, polycarbonate is easy to paint in a certain color. And speaking of colors, Apple has picked 5 fresh and beautiful hues for its handset, complementing the appearance of the iOS 7 user interface. So overall, plastic can definitely look and feel nice on a smartphone, and we believe that Apple has managed to achieve the desired result with the iPhone 5C.
Display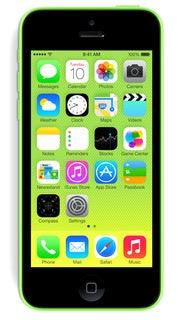 Like it or not, Apple has chosen to stick with the 4-inch screen form factor instead of venturing into higher territories. As a result, the smartphone has retained its compact dimensions, which is great as the palm- and pocket-friendly size is what many people love Apple's smartphones for. As for its quality, the screen on the iPhone 5 is great in any way and we have no reasons to believe that the one on the iPhone 5C would be any less good-looking. A resolution of 640 by 1136 pixels is still way more than acceptable for a panel of this size, so expect everything on it to look nice, sharp, and detailed. Not as sharp as on one of those 1080p screens that are so popular nowadays, but still, detailed enough for one to be hard-pressed to notice any pixelation. Since the smartphone's display has a brightness output of 500 nits, we don't think that its outdoor visibility will be much of an issue.
Processor, Memory, Connectivity
Again, Apple has simply taken the iPhone 5's hardware and fitted it into the iPhone 5C. With both you get the company's home-grown A6 system-on-chip, which is actually well capable of driving iOS smoothly, all the while consuming little juice out of the slightly bigger battery. Needless to say, we're confident that the silicon's performance would be close to immaculate, delivering a flawless user experience in tandem with the polished operating system. We do wonder, however, how good the iPhone 5C would be at running the newest games – games that take advantage of OpenGL ES 3.0, in particular. They might just contain less fancy graphics with a reduced amount of effects, we assume.
Sadly, there's nothing new to share about the on-board storage on the device. The base iPhone 5C model will get 16GB of space with no options for expanding, while the 32GB model will be offered to those who need extra storage. The latter, however, will be priced at a whopping $100 more.
Apple has gone the extra mile by ensuring that the iPhone 5C is compatible with as many LTE networks as possible. In fact, it is the smartphone with support for most LTE bands in the world. That's great for anyone switching between carriers or travelling abroad as they'd be able to stick to their iPhone 5C and still enjoy LTE speeds. Theoretically, the handset can reach 100Mbits on the downlink, which is crazy fast and probably way ahead of the capacities of most of today'smobile networks.
Interface and software
Apple will sell the iPhone 5C with iOS 7 pre-installed. That's the OS version that Apple introduced back in June, cited as the most significant overhaul of the system since its debut. Compared to previous releases, iOS 7 looks quite different with its flatter icons and cartoonish graphics – so different that some are now having a hard time getting used to its appearance, while others seem to be quite fond of the redesign. But the main concept of its UI layout hasn't been altered so anyone should be able to get the hang of it quickly. There's a handful of neat features added as well, such as the Control Center menu that is used for quickly adjusting basic settings, or the reorganized notification bar. To learn more about it, we have a great
iOS 7 preview
that you can check out.
Camera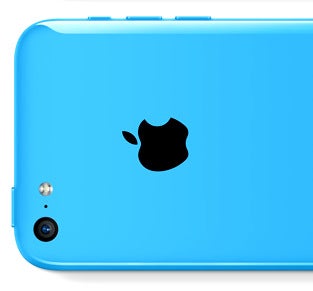 We're having mixed feelings about the iPhone 5C camera, mostly because we know that it is pretty much the same exact snapper that is found on the iPhone 5. But at the same time, that 8MP cam is actually capable of producing high-quality photographs, so there's no room for frustration at all. In fact, a camera of this class, with 5-element lens, BSI sensor, and what not is definitely suitable for the mid-range smartphone the iPhone 5C is shaping up as. That's why we don't think anyone would be disappointed by the iPhone 5C's main camera, knowing how well the iPhone 5 performed in all those camera comparisons we've included it in.
The front-facing camera, however, has been upgraded and should deliver better results than previous iPhones' front cams. A BSI sensor is now in use, made with larger-than-usual, 1.9-micron pixels. This characteristic indicates that the 5C's front camera could be quite good in low-light situations, so those candle-light selfies should turn out pretty good with this one.
Price, release date, expectations
The "C" it the iPhone 5C's name surely doesn't stand for cheap. It will be priced at $549 unlocked for the base version, which is actually pretty steep for what is just a mid-range handset. Signing a contract with a US carrier, however, brings its cost down to the much more bearable $99 and $199 for the 16-and 32-gigabyte variants respectively. The US, Australia, Canada, China, France, Germany, UK, Japan, and Singapore will get the iPhone 5C on September 20 – timely launch from Apple as always.
Apple products are almost always met with high expectations and the iPhone 5C is no exception, even though it will be marketed as a mid-range offering rather than a flagship device. But knowing Apple's fanatic devotion to perfecting everything down to the very details, we are inclined to believe that the iPhone 5C will not disappoint us when we get to test it first-hand. Sure, it might be little more than an iPhone 5 in a plastic outfit, but that doesn't make it a bad phone. In fact, it could very well be one of the leaders in its class once it is released, so don't write the iPhone 5C off, rather keep an eye out for it.