Apple iPhone 4s owners might want to hold off on downloading iOS 8
63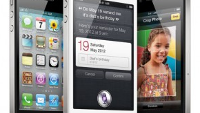 Any model older than the
Apple iPhone 4s
does not support iOS 8. But it seems that those with the 2011
version of the iPhone
should think about holding off on updating the handset to the latest build of Apple's mobile OS. Why? Those with the fifth-generation iPhone have apparently been experiencing issues and problems once iOS 8 is installed on the device.
The Apple iPhone 4s is missing a number of features like Touch ID and AirDrop. Handoff for applications, and support for OpenGL ES 3.0 are also missing. The device is the slowest iPhone you can buy right now as it comes with 2.4GHz-only 802.11n Wi-Fi, no support for LTE connectivity, and an Apple A5 chip that has 25% of the raw performance of the A7 used on the
Apple iPhone 5s
. If it has only a quarter of the processing power seen on the A7, imagine how laggy it is compared to the Apple A8.
The Apple iPhone 4s is the last iPhone model to sport a 3.5 inch screen. And interestingly, doing a task on an iOS 8 powered iPhone can add as much as 50% to the time needed to perform the task using iOS 7.1.2 (see chart below). Finally, the iPhone 4s seems to have a habit of dropping frames during animation, which gives the device the impression of being slow.
If you have an Apple iPhone 4s, your best bet might be to wait for a further update to iOS 8.01 so that Apple has the time to iron out some of the problems before you install it on the handset.

Some applications on the iPhone run slower on iOS 8
source:
ArsTechnica
via
RedmondPie