Apple iPhone 4 vs. HTC EVO 4G: the Specs
74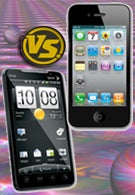 It's hardly been boring in smartphone land ever since Apple launched the first
iPhone
. Competition does wonders you know, and Google's own Android OS managed to become the iPhone's most fierce rival in the last months. A lot of manufacturers took their turn with the platform, which ultimately resulted a number of flagship devices that are pretty pumped up, in terms of raw specifications, making even the
iPhone 3GS
look like a dated device. But just as megapixels, pure specs are not all, and as we know, what matters is not the technology itself, but the way we use it.
With the iPhone 4's arrival however, the landscape has changed again and now we want to stack it up against the HTC EVO 4G as one of the best Android ambassadors to date. The iPhone's Achilles heel, the camera, has been vastly improved now and even records HD video. In addition, Apple has also used a faster chipset and a higher resolution display for its new handset, making it way more competitive in terms of specs. For its part the EVO 4G sports a giant 4.3" screen and smokes everyone else with WiMAX speeds, of course, where available. Honestly, you can't go wrong with either of these phones, we just want to confirm if Apple has caught up to the latest and greatest Android phones in terms of hardware:
Well, even a quick glimpse of the comparison sheet makes it obvious that Apple has added enough of the current top hardware capabilities to keep the competition at bay at least until the Christmas shopping season. It's not easy to make the inhabitants of the Cupertino ecosystem with its 200k+ apps change ship - now the other players have to come up with something truly novel and distinctive rather than bumping up CPU speeds and megapixels.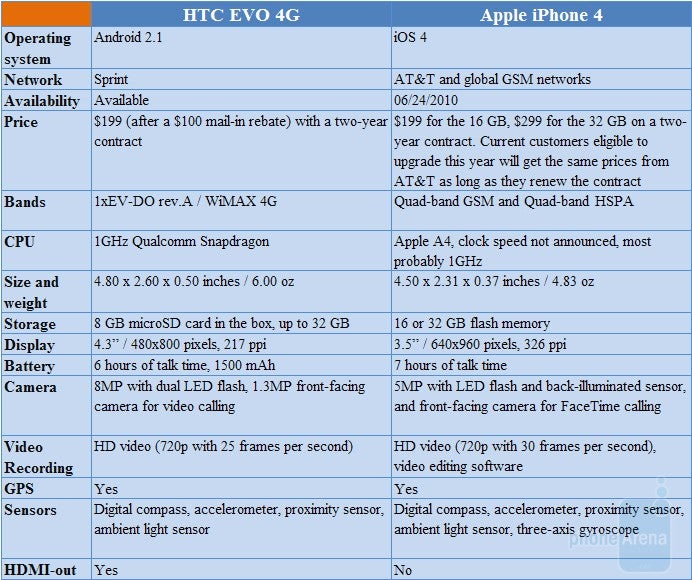 On the other hand, the HTC EVO 4G offers one decidedly unique feature among its many other virtues – the fastest data speeds available on a phone in the US. The iPhone 4 certainly cannot compete with that, so it will be undoubtedly a huge selling point for one of the best Android handsets ever.
We would call it a draw here, in the specifications department, so what we're looking forward to now is getting our Apple iPhone 4 review unit so we can properly test it and compare it with the HTC EVO 4G, this time for real.
Apple iPhone 4 Specifications
HTC EVO 4G Specifications
|
Review