Apple iPad mini 2 is finally here: 64-bit A7 chip and Retina display
99+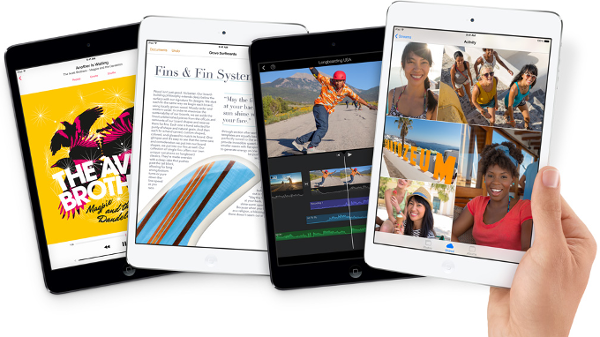 Ladies and gents, after suffering through a frustratingly conflicting rumor phase, the Apple iPad mini 2 is finally here. The little juggernaut out of Cupertino is in for a rough ride, however, for the compact tablet space is, fittingly, very tightly snug together, with barely any room left for new entrants. Of course, the new iPad mini 2 isn't just any entrant, and if any one slate is well-positioned to take the market by storm, it's the 7.9-incher from Apple.
Design
Looks are deceiving they say, and you can definitely see what people mean with the design of the iPad mini and mini 2 which actually won out in the end. What you see with the iPad mini 2 is now also the official look of the new iPads, big and small. In a typical Apple fashion, the new iPad mini 2 is thinner (7.5mm), lighter (331g/341g for the Wi-Fi only/LTE versions, respectively) and more compact (200x134.7mm) than the previous version, whilst retaining the same square-ish looks we've come to love about it. We're usually obsessed with change in the mobile space, but it's probably fair to say that the Apple iPad mini 2 is one of a few devices that we're glad to see stick to its roots.
The iPad mini 2 will come in just two color combinations including: Silver & White and Space Grey & Black.
Specs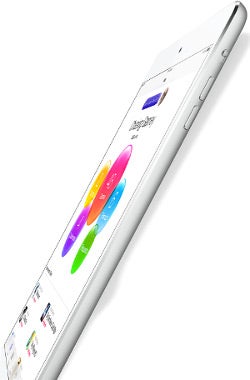 We talk a lot about the specs race that is going in full force over at Android's space, and it's turned into a kind of a measuring stick for much of how we view new products on the platform. iOS devices, however, are inherently different, and Apple has managed time and time again to showcase that even seemingly inferior hardware simply works on their devices. Which is why the dual-core Apple A7 chipset on the iPad mini 2 is nothing to laugh at -- this very same chip blazed through benchmarks on the iPhone 5s. Note that this also means that the iPad mini 2 has also inherited the dedicated M7 motion coprocessor.

We did touch on the annoyances that the rumor stage of the iPad mini 2's development caused, so it goes without saying that we're pretty much obligated to talk about the display on the iPad mini 2. We're happy to see that our perseverance has paid off and that a new, high-resolution screen is a fact on the Apple iPad mini 2. Running at 2048x1536 pixels (326 ppi), the 7.9-inch display on the new tab will certainly not lack in detail.
Unfortunately, the rumors that the new iPads will get an upgraded 8-megapixel snapper on their backs with a wide aperture turn out to be untrue, for the 5-megapixel, 5-element, f/2.4 iSight camera is here to stay. Up front, we have what Apple likes to call a FaceTime HD camera, which is simply a 1.2-megapixel snapper, capable of 720p HD video capture.
Giving life to this entire show is a 2380mAh battery, a tiny improvement over the 2340mAh cell on the original iPad mini, though Apple is advertising that it's good for 10 hours of continuous video playback, identical to its predecessor. We'll have to wait and see whether Cupertino has indeed managed to work enough magic to make up for the higher energy consumption of the higher-resolution display.
And that's about it, folks... meaning that, no, you ain't getting Touch ID after all, and isn't that a shame!
Price and release date
So how much will Apple have you cough up for the new iPad mini 2? The Apple iPad mini 2 pricing starts at $399 for the 16GB and goes all the way up to $699 for the whopping 128GB Wi-Fi version. If you're looking for a truly portable experience, than prepare to dole out $529/$629/$729/$829 for the 16GB/32GB/64GB/128GB LTE variants, respectively.
The Apple iPad mini 2 will be made available "later in November", meaning that specifics are currently scarce and you can't plan your camp-out in advance just yet.