Apple iPad Air is now official with lighter and slimmer design, upgraded hardware
59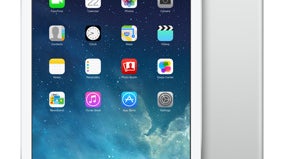 Almost exactly a year after we saw Apple open the gates for the entrance of the chic, but unchanged fourth generation iPad, the Cupertino-based company is back with another 9.7-inch tablet offering. Bound to spar with dozens of considerably better prepared rivals, this time around it should be noted that it was in Apple's interest to up the ante and not chase enticing margins. Unsurprisingly, this is exactly what the tech giant has done, for the iPad Air, in particular, comes packed with a bunch of new goodies that are bound to take the fancy even of the more devout Android followers out there.
Design: say hello to the new iPad
The most telling difference between the iPad Air and the iPad 4, or any other iPad for that matter, is the decidedly different looks. Sure, this is still an iPad through and through, with a full metal body and all, but we're definitely loving the serious kink towards the iPad mini's design. Best of all, perhaps, is the fact that Apple has also put the iPad Air through some much needed dieting, which has resulted in a slimmer profile and less bulk, making the newest iPad admittedly more compact than its predecessor. If it is figure that you demand to hear, the iPad Air is just 7.5 millimeters thin, making it thinner than the previous model. Bezels have been shrunk by 43 percent compared to the iPad 4. But the more amazing fact about the new iPad's proportions is its weight. Or lack of it, to be more specific. At roughly around one pound (about 469 grams), the iPad Air is the lightest tablet of this size.
For those who have been hoping the iPad Air to come in gold, we bring bad news. As before, the new iPad model will be available in only two color variants – silver and white or space gray and black.

The mandatory specs bump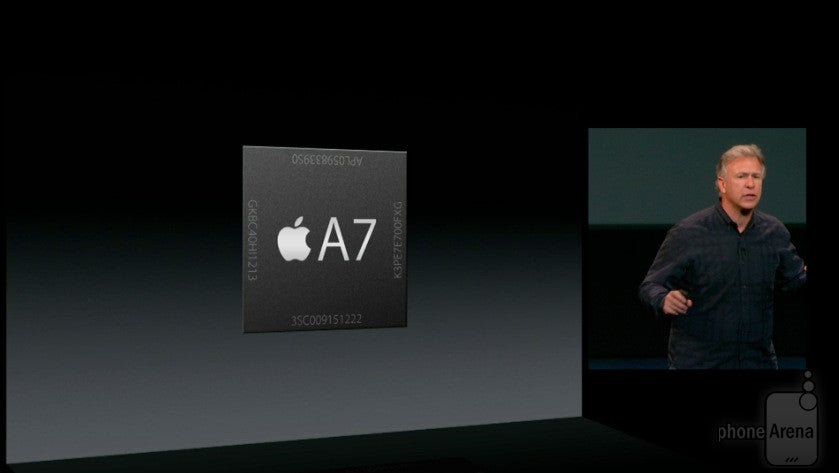 Apple has chosen the Apple A7 chip for the iPad Air
Apple's tradition of straying away from the specs race is well known, though only the initiated would mistake that for a weakness – if anything, the iPhone 5s has already proven that its seemingly frugal dual-core 64-bit Apple A7 chipset is powerful far beyond what many thought possible. This very same technology has been transferred to the iPad Air as the 64-bit Apple A7 powers Apple's new slate, backed by the M7 coprocessor, and we feel fairly certain that the new slate will not be found wanting on the performance front. Compared to its predecessor, the iPad Air is up to twice as fast, be it when it comes to raw computations or graphics performance. At the same time, battery life has not been affected in any way, with 10 hours of active use being promised by Apple.
Of course, Apple's refusal to get sucked into racing with Androids (and now, Windows Phones) is not just the stubborn refusal of a child, it's actually firmly rooted in fact. Having control over both the software and hardware has ensured that even the latest Apple hardware can hold its ground and multitask effectively (well, as effectively as iOS would allow you, anyway).
Something that hasn't been altered, however, is the screen as the iPad Air has the same 9.7-inch Retina Display found on its predecessor. But was a change necessary? Well, not really. With a resolution of 1536 by 2048, the tablet is still well capable of pleasing the eyes of consumers and critics alike.
Turning the iPad Air around reveals a 5MP iSight camera with auto-focus. Yup, it is pretty much the same one we know from the iPad 4. Here a resolution bump or the addition of a flash would have been more than welcome, yet Apple has decided to leave the tablet's snapper as it is. The front-facing FaceTime HD camera, on the other hand, has been improved with larger pixels and better backside illumination technology for clearer selfies and video chats. Speaking of video, the iPad Air sports dual microphones, yet Apple did not clarify whether these are to record stereo sound or for noise cancellation.
Further enhancements under the hood include the improved Wi-Fi radio, which now features MIMO antennas. Thanks to this upgrade, up to twice as fast 802.11n data rates can be achieved, at least in theory.

iOS 7 on the big screen

That the iPad Air ships with iOS 7 loaded and ready to go is no surprise to anyone. After all, this version of Apple's mobile platform has been pushed to both iPhones and previous-gen iPads already. What's quite fascinating, however, is the broad range of software one is provided access to - over 475 000 apps, to be precise, all optimized for the 9.7-inch touchscreen on the iPad Air. iPhoto, iMovie, GarageBand, Pages, Numbers, and Keynote, all of which are free for all iPad Air buyers, are the icing on the cake.



Price and release date
We talked a lot about tradition, and Apple's adherence to it, so it should come as no surprise that the new iPad Air will carry a premium price tag as always. The tablet starts at $499 for a base model with Wi-Fi connectivity and 16GB of storage. 32-, 64-, and 128-gigabyte variants are priced at $599, $699, and $799 respectively. Naturally, a 4G LTE iPad Air model is to be released alongside its Wi-Fi-only counterpart, starting at $629. Expect the iPad Air to hit the shelves both online and in Apple's retail outlets on November 1 – just in time for the holiday shopping spree.