Apple iPad Air 2 rumor round-up: design, specs, price and release date
18

New iPad models are coming before the year's end – that's one thing we're pretty sure about. It is a safe assumption to make given the fact that Apple has been refreshing its tablet lineup at least once a year. What we have zero clue about, however, is what the next generation of iPads will look like and what sort of features they might have to offer. Except that we kind of lied. Rumors about the successor to the Apple iPad Air, which is referred to as the iPad Air 2 at this time, are starting to accumulate, and in this post, we've put together all that has been said so far about the upcoming slate.
Design
Last year, the iPad Air amazed us with its slim profile, and its weight of just one pound (roughly 469 grams) made it the lightest "full-sized" tablet at the time of its release. But Apple is not going to stop here, it seems. Rumor has it that the iPad Air 2 will be even thinner and lighter. That's not too hard to believe with all the
leaked iPad Air 2 dummies
stacked up against the current iPad Air model. Exact weight and thickness figures are not yet known, but if Apple wants to dethrone the current leader in the field, the
Sony Xperia Z2 Tablet
, it will have to deliver a slate thinner than 0.25 inches (6.4 mm) and/or lighter than 15.03 ounces (426 grams).
Judging by the said leaked photos, we can also assume that the iPad Air 2 will have an aluminum-made back, just like every other iPad before it. There's nothing wrong with that, of course. It is great to know that the next-gen iPad will adopt the premium, zero-compromise build quality of its predecessors.
Still, we are expecting to see a few design tweaks here and there. First of all, it appears the hardware mute switch is going to be dropped, presumably in favor of a software one. On one hand, this should make an iPad Air 2 cheaper to build, and there will be one less thing on it that could possibly break, but on the other hand, folks used to having the said switch are likely not going to be happy about its removal. Also, the grills for the stereo speakers at the tablet's bottom are to be given a cosmetic redesign, and the hardware volume buttons are to be made flush with the tablet's side.
One more thing we have to mention is that the iPad Air 2 is expected to get Touch ID – a fingerprint scanner built into its home button. The feature, which made its debut on the iPhone 5s, is used to replace the user's lock screen PIN and to authorize purchases from the App Store. But with iOS 8, which is definitely going to run on the next iPad, Apple is extending Touch ID's functionality further by allowing third-party apps to access it. This would allow fingerprint-based authorization to be implemented into apps as an alternative to the now-standard username and password.
Display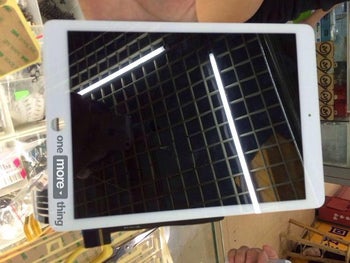 This is said to be the screen for the Apple iPad Air 2
We have no reasons to believe that Apple would alter the size and proportions of its tablet's display. In other words, we're expecting to see a 9.7-inch LCD display with a 4:3 aspect ratio on the front of the iPad Air 2. As for its resolution, we have no idea whether we'll see a boost or not, and the rumor mill is mum on the matter. Therefore, chances are that the iPad's pixel count will remain at 1536 by 2048, for a pixel density of 264 ppi.
With the
rumors around the iPhone 6
and its sapphire display, one might assume that the iPad Air 2 would have its screen treated to the same scratch-resistant material. However, no rumors or leaks indicate that Apple is considering a sapphire glass screen for its tablets. That's why we're assuming that the next iPad will have its display protected by a scratch-resistant glass piece identical to the one on the current model.
Hardware specs
It doesn't take a rocket scientist to predict that the iPad Air 2 will bring some serious upgrades under the hood, all the while retaining its great power efficiency. Most importantly, the tablet will be powered by an Apple-designed, 20nm A8 system-on-a-chip, or at least that's what the rumors claim. The silicon is expected to be of the 64-bit variety, just like the A7 found inside the
iPhone 5s
and
iPad Air
. What's more likely to raise an eyebrow, however, is that
the CPU on the SoC might reach speeds of up to 2.6GHz
. We've also heard
rumors of a 2.0GHz top clock speed for the A8
. Which is the more likely figure of the two? Well, one guess is that the A8 in the iPhone 6 will max out at 2.0GHz, while the Air 2 could offer the higher clock frequency. On a related note, the A7 has its limit set to 1.3GHz for the iPhone 5s and 1.4GHz for the iPad Air. As for the iPad Air 2 and its storage capacity, we're expecting to have four options to pick from – 16, 32, 64, and 128 gigabytes. Storage expansion via any kind of memory card will be, as always, out of the question.
Software
So as we already mentioned above, the iPad Air 2 should ship with iOS 8 out of the box. The update brings a ton of improvements and new features, such as the upgraded Spotlight Search, more functional notifications, on-screen keyboard with word predictions, support for third-party widgets and keyboards, a superior messaging experience, and a whole lot more. Feel free to read our
iOS 8 preview
and our
list of new features in Apple's mobile operating system
.
In addition to all this, the iPad Air 2 is expected to get a split-screen feature. This would give users the option to run multiple apps simultaneously, side by side. How do we know? Well, even though Apple has not confirmed the existence of split-screen functionality in iOS 8,
bits of code found in the system's beta version
suggest that such a feature is indeed being developed. In fact, we have already seen a video demonstration of what it may look like.
Price and release date
Apple has always priced its 9.7-inch iPad models at $500 for the base model, with 16 gigabytes of storage and Wi-Fi-only internet connectivity. We doubt that the iPad Air 2 would be an exception, so if you want one, you'll have to set at least half a grand aside. The 32-, 64-, and 128-gigabyte Wi-Fi-only models are most likely going to be priced at $600, $700, and $800 respectively. If you want cellular connectivity as well, that would probably cost you an extra $130. Our guess is that the iPad Air 2 will be announced this fall, probably in October, just like the case was with the iPad Air and the 4-th generation iPad. Then really soon after that, the new iPad model should be released in the U.S., so we're likely looking at a launch date during the first week of November.