Apple iBooks 2 hands-on and demonstration
12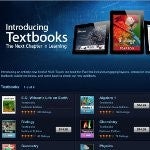 At one point or another, we've all had the experience of trying to stay awake in a classroom – reading long passages of text while trying to fend off sleepiness. Of course, we all know too well how difficult it can be to meticulously keep focus on something that seems to be laborious, and even worse, outright boring to the bones! In an age where whole books can be stored digitally on a flash drive or computer, it makes you wonder why there hasn't been much of a revolution in the way we learn. However, as we know now, Apple
intends on reinventing the textbook
, in their own way not surprisingly.
Welcome to the new textbook feature found with
iBooks 2
, which is now available for download in the App Store. As it currently stands, there are very few titles available for download, but as Apple stated earlier today, it'll consist of a plethora of textbooks for each subject and grade level – all of which will be priced at
$14.99
or less. However, it's worth noting that the free textbook that we downloaded,
E.O. Wilson's Life on Earth
, sized up at a staggering 1GB file size. So yeah, you'll want to make sure you have a solid connection before proceeding to purchasing a textbook – albeit, we find some of the others to easily tally in at over 2GB in size.
embedded multimedia content
.
From photos, videos, to 3D images that can be manipulated with
multi-touch gestures
, we're impressed to see how much interaction is available with the textbook – it basically goes above and beyond what you normally experience with any paper textbook. To better help you remember certain things, there are bolded words that provide additional content pertinent to it; such as definitions and glossary locations. And on top of that, you can always
highlight
certain passages for study or remember later on, plus, you can jot down notes at any time. When you're all done with that, you can get access to the
Study Cards
feature to help you view important things you've highlighted, all your jotted notes, and even view glossary terms.
Overall, this is just the beginning and we can expect to see more thought out content in the future as developers master its intricacies. And when you factor in that Apple managed to reel in big publishers like Pearson and McGraw Hill, there's no arguing that we'll be seeing a ton of textbooks available for the iPad. So check out the video below to see what it's all about!