Apple hire may bring widget/live tile-like app icons to iOS
52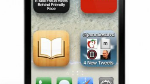 As we've mentioned before, Apple doesn't like to bring major changes to the UI of iOS, and prefers to iterate slowly, so the focus remains on the apps, but a new hire may be pointing to some very interesting changes in the future. We've already seen how
Apple hiring developer Peter Hajas
directly led to a much improved notification system, and the newest hire may bring similar changes to the iOS UI.
The new hire is Jan-Michael Cart, who is most well known for posting very impressive concept videos online. He is a mass media arts student in Georgia and announced that he was hired as a design intern at Apple. Cart has put together videos for various systems including different multitouch gestures, but the most impressive and the one we'd like to see incorporated into iOS is the Dynamic Icons concept. As you'll see in the video below, the idea is basically to transform iOS's app icons into Applefied Live Tiles like you'd see in Windows Phone 7. The app icons would change based on notifications, and icons could be zoomed into for a more widget-like feel with updating info.
The ideas may be things we've seen in other platforms, but Cart's video definitely has that Apple feel to it, showing he understands the design philosophy that Apple tries to adhere to. He may just be an intern scheduled to work for 7 months, but we're hoping that these ideas make their way into iOS.