Apple granted another "iPen" stylus patent
39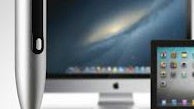 As you have probably noticed from the news over the past few hours, today was a big day for Apple patents. Apple apparently had about 30 patents approved, although only a few of them are targeted enough to the mobile sphere to make us interested. We've seen mobile camera lens patents and now we're seeing another patent that points to work on an "iPen" stylus.
This isn't the first "iPen" patent gathered by Apple, and it is unlikely to be the last either. According to
Patently Apple
, the Cupertino crew has more than 20 patents that could all be part of an Apple stylus, including LiveScribe-like recording, variable pressure and texture input, gesture controls, and more. The newest patent granted today allows for determining the orientation of the stylus through a sensor in the pen as well as a sensor in the slate.
There could be a number of cool uses for a feature like this from something simple like making the device feel more like various drawing materials, for example a pencil (one end for writing and the other for erasing), or a charcoal stick (using the side for a broad shadows), to more advanced functionality like putting the stylus into power-saving mode depending on the orientation.
This patent was filed in 2011, but it seems fairly obvious that Apple is still putting time and effort into figuring out how to make a stylus that is more than just a "dumb stick", which was why Steve Jobs wanted to avoid it in the first place. It just remains to be seen if Apple will actually build the device and sell it. It seems more likely with the rumored 12.9-inch iPad in the works, but we'll have to see.