Apple goes Topsy, acquires social media analytics firm for $200 million
9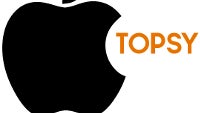 According to a published report on Monday, Apple has acquired social media analytics firm Topsy for $200 million. The company pays Twitter for access to information sent out on tweets, and can determine how often a specific term is tweeted. The company also measures how successful an ad campaign or event is by measuring how people are responding to it on Twitter. Topsy also sifts through tweets, looking for trends.
Topsy brings in revenue by analyzing the 500 million tweets that are sent daily. After discovering certain trends, it sells this information to its customers. Executives in the industry believe that Twitter had to give the Apple-Topsy union its blessing before both sides collectively pulled the trigger on the acquisition.
So how can Apple make use of this information? According to Susan Etlinger, industry analyst at Altimeter Group, the Cupertino based tech titan could use Topsy's trend gathering abilities to make recommendations to iTunes users about music, movies and television shows. Another possibility is that Apple could use data from Topsy for its iTunes Radio. Subscribers could receive information about trending songs or artists who are being discussed on Twitter. Even the App Store could be involved as Apple could use Topsy's data to offer better rankings and recommendations to App Store visitors.
Apple might use Topsy's Twitter connection to see how people are responding to certain ad campaigns that are running on iAd. The platform is used by Apple to sell ads on mobile apps running on Apple iPhones and Apple iPads. Apple started iAd as an incentive to developers to produce apps for iOS devices. Being able to gauge resposes to iAd campaigns could allow Apple to offer advertisers suggestions on how to improve their campaigns.
Will Topsy be able to add some benefits to Apple's customers? Apple is willing to make this small $200 million wager to find out.
source:
WSJ