Apple's latest update fixed a major bug, but also made matters worse for many iPhone users
73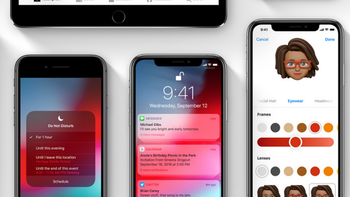 Late last week, Apple rolled out iOS 12.1.4
. The update removed two vulnerabilities, one involving a "memory corruption issue" and the other allowed "an application to execute arbitrary code with kernel privileges." But more famously, the update also removed the Group FaceTime bug and re-enabled the feature on affected iPhone units. So, this is obviously a build of Apple's mobile operating system that you would want to install on your iPhone, right?
But lately, iOS updates have been known for other problems, such as
breaking both cellular data and Wi-Fi connectivity
. And the problem,
according to Forbes
, is that many iPhone users who did not experience the earlier issues, are feeling them now. On Twitter, for example,
one iPhone owner complains
that since installing iOS 12.1.4, he cannot get his handset to "accept any SIM." Obviously upset, he asks Apple to make fixing this problem a priority and warns others not to install the new update.
Another tweet
calls iOS 12.1.4 an "utter failure" after his
iPhone XS
lost SIM connectivity following the installation of iOS 12.1.4. This Apple customer is also demanding that Apple consider this an urgent matter. And yet another complaint comes from an
iPhone XS Max
user who updated her phone and now cannot connect to her home Wi-Fi network.
There are a large number of complaints on social media, with some complaining that iOS 12.1.4 has not only broken their cellular and Wi-Fi connections, but has also negatively impacted the performance of AirPods, Touch ID and other features. These problems have been going on since iOS 12.1.1 for many, and quite a few iPhone owners are echoing the sentiments of one Twitter member with the handle of @navansh_deorah.
He tweets
, "What is wrong @Apple? Please solve this stupid bug. This has been ever since iOS 12.1 . We are losing it. Come on man, we know you can fix this. Using iPhone X. @AppleSupport."
And considering the bug fixes on iOS 12.1.4, this update cannot be ignored. Hopefully, iOS 12.1.5 goes better.