Apple files application to trademark 'Night Shift'; feature could end up on the Apple Watch
36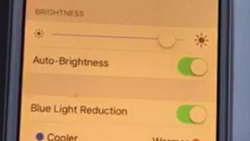 In the U.S. and Hong Kong, Apple has filed for trademark protection of the 'Night Shift' name. This is the feature found on iOS 9.3 and later
that removes blue from the screen of your iOS device once sundown arrives
. Studies have shown that staring at bright blue on the screen of a smart device before bedtime can mess with your circadian rhythm. That could make it harder for you to fall asleep.
Removing the blue not only helps you sleep better, it also prevents your eyes from getting strained and fatigued. This is why Apple is planning to add Night Shift as a feature for the Apple Watch, among other devices. Adding Night Shift to more Apple products also explains why the tech titan is filing to trademark the name in the two aforementioned countries.
On the iPhone and iPad, the feature uses the clock and geolocation to compute when the sun goes down in your area, and automatically turns Night Shift on. Of course, if you're not happy with how the screen looks without the colder colors like blue, you can always disable the feature.
source:
PatentlyApple