Apple fans go wild over Android 5.0
99+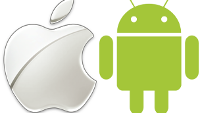 Apple fans are going wild over Android 5.0. A Dutch humor troupe took an Apple iPhone, dressed it up with Android 5.0, and told people walking down the street that they were looking at iOS 9. One iPhone user said that iOS 9 (really Android 5.0) made things easier once again. Another liked the way widgets could control music volume.
Other Apple fans, not knowing that the iOS 9 they were looking at on an iPhone was in reality Android 5.0, said that the new build was prettier and faster than Android. One said that Apple is "
always better
" while a self proclaimed Samsung fanboy said that this new version of iOS showed the apps better than Android. Some Samsung fanboy, right?
"
It's an improvement, of course
," said one iOS fan. "
I think the re-booting thing is a great invention
," one woman gushed. Only one person said that this version of iOS looked just like Android, noting the similarity between this version of iOS 9 and Android 5.0.
What this proves is that when it comes to the man (or woman) in the street, you are not going to get unbiased opinions when it comes to mobile devices. It also means that some people who think that they know the difference between Android and iOS wouldn't be able to recite to you one difference between the two, even if their lives depended on it.
source:
DitIsNormal
via
CNET