Apple executives are awarded stock bonuses that could be worth tens of millions of dollars
12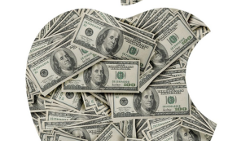 Certain Apple executives, including marketing chief Phil Schiller and retail head Angela Ahrendts, combined to receive Restricted Stock Units (RSUs) that won't vest until fiscal year 2022. Other executives included in the awards are Eddy Cue, who is in charge of internet software, software engineering head (and star of the
Apple iPhone X
unveiling) Craig Federighi, CFO Luca Maestri, Hardware Engineering chief Dan Riccio, Hardware Technologies leader Johny Srouji, and COO Jeffrey Williams.
Overall, 128,584 RSUs were handed out by Apple's Board of Directors. On October 1st, 64,885 RSUs were awarded, and 63,699 RSUs were passed out on October 15th. The RSUs are incentives designed to motivate the executives. For example, the October 1st stock incentive is based on Apple's total stockholder return from the first day of fiscal 2018 to the last day of fiscal 2020. Depending on how Apple's shares perform, 200% of the 64,885 RSUs could end up in the lucky executives' hands. The RSUs awarded on October 15th are based on continued employment with Apple and will vest in equal amounts over three periods, April 1 of 2020, 2021 and 2022.
If Apple's stock performs as forecast by Wall Street, each executive could end up with 193,469 common shares currently worth $31 million. But you can't count on the stock to perform as expected. For example, the recent vesting of RSUs from a 2014 award did not vest in full as the company's total stockholder return failed to reach the 85th percentile for companies listed on the S&P 500, which was a condition for the award to be fully vested. Still, each member of Apple's executive team still managed to pocket $10 million each.
source:
AppleInsider