Apple event banner might be a gentle hint for a taller screen for the new iPhone 5
51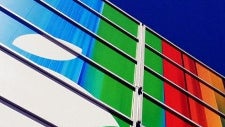 We're just two days away from September 12th, the biggest date for Apple this year when the new iPhone 5 is expected to make its first official on-stage appearance, but Apple has already started preparing and has hung the banner for the upcoming event.
At first sight, it's just a colorful mix of colors in no particular order and no significance, giving away no details about the iPhone 5. But look at it closely, with the investigative eye of an Apple fan and you'd see what seems like
vertically stretched out icons of some of the stock applications in iOS
.
Dive deeper into the conspiracy theories and you start to wonder why would Apple show stretched out icons of its applications. The only logical answer seems to be that it's a hint that the new iPhone will feature a taller display, hence the stretched out icons on the banner.
The new iPhone is rumored to come with a 4-inch screen with a new aspect ratio of 16:9, perfect for watching video online. Now, is that digging too deep or do you think this could well be Apple's hidden message?
source:
Cult of Mac