Apple cracks down on in-app purchasing violations
1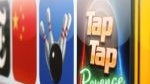 Apple'
App Store
is both a blessing and a curse for developers. On one hand, the iPhone and iPad communities represent very profitable and ever-expanding markets, but on the other hand, Apple takes 30% of every app purchase. That led some developers to create 'in-app purchases' that weren't actually being handled within iTunes.
Within those apps, customers could find links to purchasing additional content, but the transaction would bypass the Apple process altogether. Obviously,
Apple
was very displeased. On Tuesday, Apple rejected Sony's eBook reader app for that very reason. It would seem that developers' long-ignored workaround is about to be quashed.
An Apple spokesperson said that they are "now requiring that if an app offers customers the ability to purchase books outside the app, that the same option is also available to customers from within the app with in-app purchase." Apple has already begun notifying developers that, as of March 31st, all apps will be required to offer the in-app purchasing option.
There is, however, one exception: if a publisher offers their subscribers free access to an iPad edition, they won't be required to conform to Apple's in-app purchasing standards. But before our readers get mad at Apple, we should remind you that it's only an
option
. It would be impossible to
require
customers to purchase their content through iTunes.
source:
The Wall Street Journal
via
BoyGeniusReport