Apple considering integrating movie times into your personal iPhone data
5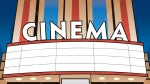 Sure, apps that show
movie starting times
are a dime a dozen. But Apple has an idea to take it one step
further
and has filed for a patent for its "
Systems and Methods for Providing Context-Based Movie Information
." In other words, Apple wants to develop its own iPhone app that will not only show you location-based theater starting times, but will also integrate the information into your calendar and other planners that you have on your handset. It is not known whether or not Apple will eventually offer this app.
The patent, filed by Apple in December of 2009 and just discovered by
Apple Insider
, is for an app that would reveal movie start times during a
specific
time slot. Time intervals would be presented to the user to better fit his schedule. If the user picked a film at a time that would
conflict
with another event planned for in the calendar, he could be given the option to remove the conflicting event from the schedule.
Apple is also considering offering
traffic
and
location
based based start times so that the user could pick which theater and showing would be best considering the length of the drive. The app would also show the appropriate theater and showtime for a movie that would be seen following a scheduled event-like a nice
dinner for two
at your favorite restaurant. You will also be able to
share
your movie plans with friends, setting up the app to send out the information to people on your contacts list once the movie tickets have been purchased.
source:
AppleInsider
Recommended Stories