Apple closes down the Apple Store in preparation for Apple Watch pre-orders
7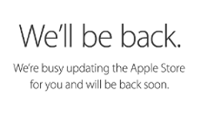 Just a few hours before the highly anticipated Apple Watch will be available for pre-orders, Apple has shut down the Apple Store. It is expected to re-open before 3:01am EDT (which is 12:01am PST) in the U.S. The entry level Apple Watch Sport models start at $349 with the stainless steel Apple Watch priced in a range of $549 to $1099. The Apple Watch Edition models run from $10,000 to as high as $17,000.
The Apple Watch will ship starting on April 24th. If you are looking to pre-order the device, heed the words of Apple retail chief Angela Ahrendts who recently said that
the best way to reserve a watch is to do it online
. The only thing that you can arrange at a brick and mortar Apple Store is an appointment to try on the timepiece at a future date.
In fact, many models are not expected to ship for 4 to 6 weeks yet. Apple has made it clear that running over to the Apple Store in an attempt to pre-order the Apple Watch
would be a wasted trip on your part
. If you are seriously ready to plunk down your hard-earned cash for an Apple Watch, make sure that you have an alarm set for the correct time (as mentioned in the beginning of this article) and head over to the Apple Store to place your reservation. Surely Apple will have the site up and running in time to start taking pre-orders of its latest device.
source:
Apple
via
AppleInsider