Apple claims iPhone is used 50% more than Android phones
39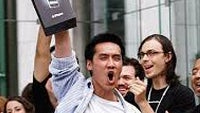 Apple's chief executive Tim Cook has just announced that Cupertino has sold 600 million iOS devices to date. The number itself is impressive, but Apple's CEO wanted to stress something else - the fact that customers use these devices a lot. Actually, not just a lot - Cook claims iPhone is used 50% more than Android phones.
"I'm happy to tell you people are using our products substantially more than other products," Cook said on stage. "iPhone users use their phones 50% more than Android users."
To back up his claims, Cook used a somewhat strange metric saying shopping traffic is higher on iPhones. It's hard to generalize like this given that Android phones differ a lot and hit a lot price points, while Apple only releases one high-end device per year, but claiming more phone usage on the iPhone is definitely polarizing and hard-to-prove.
In other stats, Apple boasts the highest customer satisfaction of 73% and over 90% of its installed base is using the latest version of the software. Nice.
source: Apple