Apple fights back against Spotify claiming the music streamer's data is out of tune
34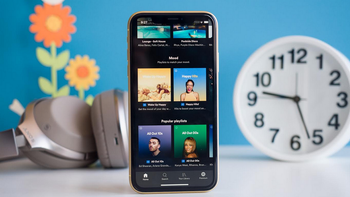 Music streamer Spotify has been complaining about having to pay the so-called "Apple Tax." This is the 30% cut Apple takes from revenue generated by apps that use the tech giant's payment system. This is why Spotify charges $12.99 a month, $3 more than its regular price, for an individual subscription on the App Store. And to make matters worse for the company, it competes in Apple's iOS app storefront with Apple Music. Because of the "Apple Tax," an Apple Music subscription is cheaper than signing up for Spotify from the App Store. However, outside of the App Store, both music streamers have the same exact pricing structure. Spotify could decide to eat the 30%, but that would sharply curtail profitability by cutting its profit margins.

Spotify's complaints
led the EU competition commission to start investigating the matter
; if the commission rules against it, Apple could be forced to change its business practices and pay a fine up to 10% of its global revenue. That means Apple could be forced to write a check for $26.6 billion. In a related matter, earlier this year
the U.S. Supreme Court ruled that a class action suit against Apple can proceed
. The plaintiffs, in this case, argue that the "Apple Tax" forces them to pay more for apps in the App Store because of the 30% cut that Apple takes. But there is a slight difference from Spotify's argument. The class action suit points out that because iOS users are stuck using the App Store (unlike Android users who can sideload apps), Apple is violating antitrust laws. However, prospective Spotify subscribers can go to Spotify's own website to subscribe to the service (more on that later).
Apple says that it takes a 15% cut on only 680,000 Spotify members

Apple today submitted a filing with the EU in response to Spotify's claims.
According to Germany's Der Spiegel
(via
AppleInsider
), Apple says that it is taking a 15% cut on only 680,000 of Spotify's 100 million worldwide premium subscribers. These are Spotify members who converted from a free ad-supported subscription to the premium service using Apple's in-app payment system (iAP) between 2014-2016. The 30% "tax" applied to the first year of their subscriptions, but that dropped down to 15% annually after the first year. And those upgrading to the premium service from the free tier after 2016 were no longer able to pay for their subscription inside the App Store.

Spotify's premium service offers more features than its ad-supported tier
Apple also reportedly used the filing to respond to additional comments made by Spotify CEO Daniel Ek. The executive claimed that Spotify members paying through the streamer's website instead of the App Store do not receive email and other messages sent from the music streamer, and in some cases, they cannot update the app. In the filing, Apple supposedly dismissed those allegations and said that they are not true. To refute the argument that it is a monopoly, Der Spiegel wrote that Apple pointed out that its share of the smartphone market in the EU is only 25%, and that Apple Music is not dominant among streaming providers.

Spotify is the world's most popular music streaming platform with over 200 million members. Roughly half of them listen for free using an ad-supported tier of service while the other half pay for a premium subscription. The latter allows users to download music, play any song from the Spotify library, and use unlimited skips to navigate past songs they don't want to hear.