Apple buys Coherent Navigation, beefing up location technology and services
17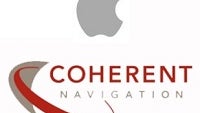 Coherent Navigation is a small commercial navigation services outfit based out of the Bay Area. Coherent's specialty is high-accuracy global-positioning, which uses existing GPS and combines it with data from Iridium's low-earth-orbit satellite network.
The results are said to be accurate to within inches. While Apple is not saying much about the acquisition, it should not take much math to figure out Cupertino's interest in the company (it is not just about
Apple Maps
, though jokes
are apropos
).
Coherent Navigation was founded in 2008 and the small company uses its high-accuracy navigation systems for applications involving autonomous navigation, robotics, as well as programs for the Department of Defense.
Apple is rumored to be interested in getting
in the car business
. If that is the case, a hyper-accurate commercial GPS program would be essential particularly if it were to be autonomous like Google's planned development.
Even if the rumors about the Apple car were to never materialize into anything tangible, Apple Maps will certainly see some benefit. The tools would also enable Apple to develop a number of other commercial applications such as on-the-spot e-commerce avenues.
source:
The New York Times