Best Buy's top-selling Apple products since 2016 have been dongles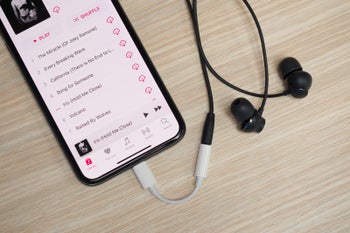 Although Apple's
iPhone 7
and
7 Plus
introduced only a few external design changes in comparison to the previous-generation iPhone line, Apple did face some serious backlash when it was revealed that the new devices would ship without a 3.5-mm headphone jack.

Since the decision, Apple has largely ignored any backlash surrounding the matter but has continued to bundle in 3.5mm to Lightning dongles in iPhone boxes in order to allow people to utilize their older earphones. However, these dongles are prone to breaking and can also easily be lost, hence the rather strong demand for the accessory. But as revealed by a new report, demand is so high, in fact, that dongles, which also include USB to Lightning cables, have actually been Apple's best-selling product category at Best Buy since Q1 2016.

Taking the lead over all other products, Apple's 3.3-foot USB-C to Lightning cable maintained its number one position for a total of five consecutive quarters beginning Q1 2016. Eventually, though, the accessory dropped down into second place, passing its crown over to the controversial 3.5mm to Lightning dongle that is still extremely popular to this day. Another popular dongle worth pointing out is the 6.6-foot USB-C to Lightning cable which also sits within the top 4 of the best-selling Apple products.
Outside of the dongle category, Apple's headphone accessories are extremely popular too thanks to sales of
AirPods
, as are the multiple generations of the Apple TV. In a distant fourth and fifth place, however, are the
Apple Watch
and the brand's iTunes Gift Cards.
While the Silicon Valley-based giant's end goal with the removal of the headphone jack may have been to push its wireless accessory sales, the company has also indirectly created a whole new business led by the popularity of the audio jack dongle. And with rumors now suggesting that Apple
may stop shipping the accessory
with its newer iPhone models, demand could soon receive a boost as more and more customers purchase devices without the popular port.