Apple accuses Samsung of copying its icons as well
99+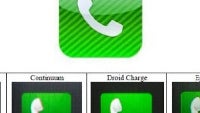 Do Samsung Galaxy devices look like the iPhone? Apple argues some pretty generic features accusing Samsung of making a rectangular device. But while that might sound absurd, the real point is that Apple is trying to convince the court that as a whole devices like the original Galaxy S were made to look like the iPhone and confuse users. A little but interesting part of that similarity are the
icons
.
"Samsung is also infringing Apple's icon trademarks by advertising and selling a wide variety of products using confusingly similar icons...The icons on these products were intentionally designed to look like Apple's icons and infringe Apple's trademark rights,"
Apple claims.
Apple says that Samsung copied some of those icons and gives plenty of compelling evidence in a lot of Samsung devices. Here is a list of all Samsung phones where the allegedly copied icons appear:
Captivate; Continuum; Droid Charge; Epic 4G; Exhibit 4G; Fascinate; Galaxy Ace; Galaxy S (i9000); Galaxy S 4G; Galaxy S II (AT&T Edition, 4G); Galaxy S II (T-Mobile Edition); Galaxy S II Epic 4G Touch; Galaxy S II Skyrocket (4G LTE); Galaxy S Showcase; Gem; Gravity Smart; Indulge; Infuse 4G; Mesmerize; and Vibrant.
But is all as obvious as it looks? Check out all the Apple icon trademarks and how similar icons on Samsung phones look like.
In some cases like the dialer, we can excuse the Koreans - it actually logically makes sense to have things like a green background for the dialer as that's the color that is traditionally associated with taking a call. The gear icon for settings also doesn't look all that striking - and it's blue in Samsung's case. Others like the sunflower picture used for the gallery and the music app icon however look just
too "inspired"
from Apple.
We could probably all agree that Samsung was
"inspired"
by Apple to a certain degree. Did this really matter much to customers and did it confuse them to think they were buying an iPhone while holding a Galaxy device? We're not so sure. What do you think?
source:
CNET
Recommended Stories