Apple is working on new touchless controls for its displays
26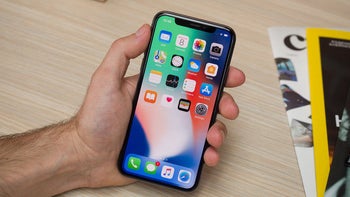 Apple has a number of new features in the pipeline for its upcoming iPhones. Last year, the company introduced its brand-new design strategy with the
iPhone X
and, unsurprisingly, this year's models are expected to follow in its footsteps. According to a Bloomberg report, however, the Cupertino-based company has a number of new features in the works in order to differentiate its future models in the coming years.
Kicking things off is expected to be a new display technology that should help create an even more immersive experience. Much like Samsung's curved
edge
displays, Apple is said to be working on OLED panels that are capable of being curved at certain points but, unlike Samsung's, Apple's alternative is expected to curve from top to bottom. Also in the works alongside the new displays is a new gesture control feature. This is expected to allow users to control their devices by simply moving their finger close to the display, without physically needing to touch the panel. Both the new gesture control and display technologies are still in the early research and development phases, so Apple could ultimately decide not to include them in future devices. If it chooses to do so, however, consumers should expect the features to arrive in the 2020 or 2021 model years.
In addition to these new technologies, Apple is also working on another new display technology which should eventually replace current OLED displays. The new tech,
dubbed microLED
, is currently on track for a release in next few years - with the displays rumored to debut on the
Apple Watch
initially - and is expected to offer one major advantage over current OLED displays, that being the lack of organic matter which should help avoid any burn-in situations, not to mention the fact that it will also reduce Apple's reliance on Samsung for future displays.
Looking at short-term plans for the company, Apple is rumored to have plans for an expanded range of OLED devices that is set to be headed by a new
iPhone Xs Plus
variant that should boast a huge 6.5" screen. Apple is also expected to introduce an update to last year's regular
iPhone X
, set to be called the
iPhone Xs
, and a slightly more budget-friendly LCD variant.