Apple Watch to off load complex processing to the iPhone
22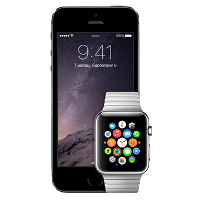 Because the Apple Watch does not have cellular connectivity, it counts on the user's iPhone in order to communicate. Besides depending on the iPhone for this, those who have tested the timepiece say that it also off loads more complex processing needs to the processor on the handset. The timepiece carries an S1 processor that can handle things like basic math. By allowing the iPhone to handle other capabilities for the Watch, it saves battery life on the wearable.
The complex functions are sent from the Apple Watch to the Apple iPhone, and then sent back to the Watch using Wi-Fi. For example, some of the health data picked up by the sensors on the watch will probably get sent to the iPhone for analysis. The final result is then zapped by a Wi-Fi connection to the timepiece. In addition, Apple Watch users will be required to install an app that will help download apps and alternate watch faces, and also take care of the watch settings. This app might come with the release of iOS 8.2 or iOS 8.3.
The Apple Watch is expected to be released early next year, priced at $349. Apple has been showing off the device in France for Fashion Week there, but the watches on display are running a video instead of the OS, suggesting that Apple has some more work ahead of it when it comes to its timepiece.
source:
ABlogToWatch
,
9to5Mac
via
MobileSyrup