Apple Watch Edition buyers will be treated like VIPs by Apple
26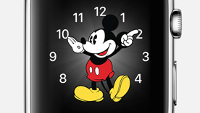 Those interested in
shelling out $10,000 or more for the top-of-the-line 18-karat gold Apple Watch Edition
can decide to arrange for a personal appointment at an Apple Store, or via a video chat. If those two options are not viable, you can arrange for a personal courier to come to your place to try on the Apple Watch Edition and close on the sale. At the store, those with an appointment are immediately whisked away without a second's wait for a personal one-on-one with an Apple Watch expert. The meeting can take up to 60 minutes with half the time set aside to have the watch put on your wrist.
The set up is similar to what you would find at a high-end jewelry store. The Apple Watch Edition has a separate area where you can try it on with a glass display case, a mat, and a couple of stools. Only two of the high-end gold models can be viewed up close at one time unless the store employee feels that conditions allow for a third watch to be taken out. There are even special rules to be followed if a customer looking at an Apple Watch Edition model wants to compare it to a lower priced Apple Watch Sport unit.
Those buying an Apple Watch Edition timepiece will be given a special technical support number good for 24/7 support for two years (in English only, to start). With Apple Care+, this becomes three years. The Apple Watch Edition models will originally be available only in Apple's largest markets with a gradual roll out to its other stores.
There is a whole process to trying on the Apple Watch in the Apple Store. Demo units run a loop that explain certain functions although Haptic Feedback will function so that customers can experience it. Those who want to try an Apple Watch at the Apple Store without going through an Apple rep, can use a demo unit which will be attached to an Apple iPad mini. These demos will work anywhere in the store.
As we told you last month, the expensive 18-karat gold Apple Watch Edition units
will be kept overnight in a jewelers' safe
. The MagSafe magnetic chargers inside the safe make sure the watches are all powered up and ready to go to work the next morning. Remember,
pre-sales of the Apple Watch start on April 10th with the timepiece launching on April 24th
.
source: 9to5Mac (
1
), (
2
) via
Engadget