Apple Pay purchases increased by 500% year-over-year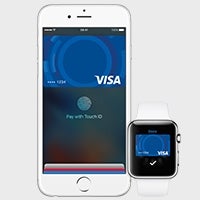 As part of its latest earnings call, Apple revealed that Apple Pay transactions have increased 500% year-over-year in the past quarter. The surge is so strong that September saw more purchases than all of the company's fiscal 2015 combined.
Apple hasn't reflected on the factors which influenced the spike, but we can assume it has something to do with all the expansion that the service has been going through. Recently, Apple added partnerships with 24 U.S. banks to its ranks, and this year, it launched Apple Pay in China, as well as countries like Australia and Canada. The company is now moving onto Japanese territory as well.
Considering that Apple Pay is still not available in a great many places and with limited store support, the company certainly has a lot of room to grow its mobile payments service in the future.
ALSO READ