Apple Pay officially expands to China, but the country may not care
13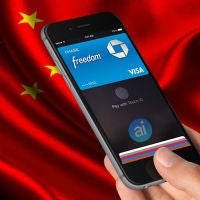 A downturn in the Chinese economy has put a bit of a damper on Apple's plans to have the region help its flattening iPhone sales, but selling devices isn't the only way that Apple makes money. They company is hoping that Apple Pay will lead to a solid new revenue stream and so it has officially expanded the mobile payment system to China.
China is the fifth country to get access to Apple Pay. Supposedly, right out of the gate Apple Pay will support 80% of all credit and debit cards in China. Apple has big hopes for the country. Jennifer Bailey, vice president of the Apple Pay, told Reuters, "We think China could be our largest Apple Pay market."
Unfortunately, Apple's hopes might be little more than pipe dreams, because only one-third of all retailers in the country that support mobile payment will be able to accept Apple Pay. Not to mention that the mobile payment ecosystem in China is reportedly already essentially saturated. Between China UnionPay, WeChat Payment, and Alipay from Alibaba, Apple might not really have any chance. One retailer flat out told Reuters that "no one is clamoring for China."