Apple Maps data provider TomTom putting some daylight between the two companies
31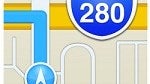 The Dutch navigation company, TomTom, sought to step away from the scorching criticism of Apple's new mapping application. Stating that their map data merely provides the foundation of Apple Maps, TomTom is letting anyone who will listen know that they are not responsible for the user experience.
Citing that their own TomTom app for iOS receives consistently high marks from customers, the company said that companies that seek to develop their own application using their data determines the final user experience. We have all read stories about the overt failures of the Maps program, like a search for the Golden Gate Bridge places a marker four miles away, and some locations Japan were written in Korean to name a couple.
We cited ten great fails ourselves
. One benefit of all this is that
Apple Maps has provided some handy material for a good laugh
.
To their credit,
Apple has said that they know it is not a perfect rendition
. The company encouraged customers to use the app, as it is cloud based and will improve as more customers use it and Apple can aggregate more data in future updates. However, it really does make one wonder how data could get so distorted in the process of building the program. TomTom GPS units are competent navigation devices, and we are pretty sure the company knows where to pin a marker on major landmarks like the Golden Gate Bridge or the Sears Tower (which is actually now called the Willis Tower), or spell the capital of Ukraine as Kiev.
source:
The Wall Street Journal