Your San Francisco rent getting crazy? Apple's here to help
12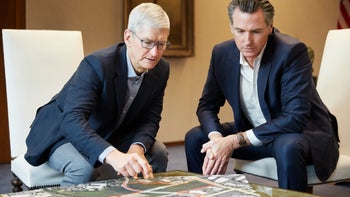 In case you haven't heard, California is burning. No, not the
fires and the PG&E blackouts
, the housing crisis! About 10,000 people a month vote with their feet, and emigrate from the city of San Francisco, while those that actually own their houses are at a seven-year low percentage.
If you are wondering why, we'd just direct you to a few stats. The median price for a single-family home or condo in San Francisco has hit $1.4 million while if you want to buy something larger you'd have to shell out as much as for a castle in Italy or a Mexican island.
As for the rental market, will, people with decent jobs are living on the street and in shelters, so... we'll just post this abomination of a "co-living" rental space that sells beds for $1200 a month, while privacy is left at the doorstep.
Enter Apple, which today followed in Google's footsteps, and announced that it will take part in California Governor Gavin Newsom's push to solve the housing crisis with a $2.5 billion fund.
Before the world knew the name Silicon Valley, Apple called this place home. To keep this community a vibrant place for everyone, we're committing $2.5 billion to addressing California's housing crisis. https://t.co/ICuWOpomUY

— Tim Cook (@tim_cook) November 4, 2019
After introducing rent caps, the Governor's office has been working with willing participants from the Silicon Valley over a combination of low-income housing funds, land donations, and various other initiatives to ease the "rent is too damn high!" conundrum. Here's how Apple's princely sum breaks down:
$1 billion affordable housing investment fund: The $1 billion commitment to the state of California is a first-of-its-kind affordable housing fund that will provide the state and others with an open line of credit to develop and build additional new, very low- to moderate-income housing faster and at a lower cost.
$1 billion first-time homebuyer mortgage assistance fund: Working with the state, this first-time homebuyer fund will provide aspiring homebuyers with financing and down payment assistance. Apple and the state will explore strategies to increase access to first-time homeownership opportunities for essential service personnel, school employees and veterans.
$300 million Apple-owned land will be available for affordable housing: Apple intends to make available land it owns in San Jose worth approximately $300 million for the development of new affordable housing.
$150 million Bay Area housing fund: In a public-private partnership, Apple is launching a new $150 million affordable housing fund with partners including Housing Trust Silicon Valley to support new affordable housing projects. The fund will consist of long-term forgivable loans and grants.
$50 million to support vulnerable populations: Apple will donate $50 million to support Destination: Home's efforts to address homelessness in Silicon Valley. Apple will focus its contribution on driving systemic change across the many factors affecting homelessness. Apple will also be identifying similar efforts in Northern and Southern California, focusing on strategies that both end and prevent homelessness.
Google did a similar thing over the summer, and donated $1 billion to solving the housing crisis, and the new Governor might have something to do with these initiatives. Given that the salaries and stock options that the tech giants don to their employees are one of the main reasons behind said crisis, they should try and patch over this self-inflicted wound.
Well, Gavin Newsom, the governor of California, issued a statement that basically says the same in a much more diplomatic way, urging more of the culprits to chip in for solving a housing crisis of their own making:
This unparalleled financial commitment to affordable housing, and the innovative strategies at the heart of this initiative, are proof that Apple is serious about solving this issue. I hope other companies follow their lead. The sky-high cost of housing — both for homeowners and renters — is the defining quality-of-life concern for millions of families across this state, one that can only be fixed by building more housing. This partnership with Apple will allow the state of California to do just that.