Apple CEO Cook meets with his China Mobile counterpart
8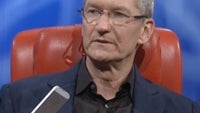 Back in January,
Apple CEO Tim Cook met with Xi Guohua, Cook's counterpart with China Mobile
. After the meeting with the top executive of the world's largest carrier, Cook made his now famous forecast that China would
become Apple's largest market
in the near future. But for that to happen, Apple will need to get its iconic smartphone and its tablets added to the China Mobile roster, something that has yet to have been accomplished.
Now, almost 7 months have gone by and Cook made a return trip to Beijing on Tuesday to visit Xi Guohua and China Mobile. Insiders working for the mobile operator told Reuters that the two CEO's met to discuss "matters of cooperation" which could mean that China Mobile will soon be carrying Apple devices. Apple's second quarter sales in the country dropped by a
whopping 43%
, which includes sales in Taiwan and Hong Kong.
Apple's once huge technological advantage over local manufacturers has disappeared. Chinese OEM's like
Huawei
and
ZTE
have produced handsets that can compete with the iPhone in China. Another major problem for Apple in China is the country's lack of 3G adoption as users turn away from native SMS apps on handsets to apps like WeChat, which has 300 million users in China.
Less than 20% of China Mobile's subscribers use a 3G network compared with 38% for China Telecom and 50% for China Unicom. While China Unicom and China Telecom both use international 3G standards, China Mobile uses its
proprietary TD-SCDMA 3G pipeline
which makes it harder for Apple to offer an out of the box solution for the carrier. Cook also met earlier in the week with China Telecom President Yang Jie and talked about future products although he stopped short when talk turned to the next iteration of the iPhone.
For its just reported fiscal Q3, Apple's sales in Greater China made up 13% of its total revenue ($5 billion), down from 19% in the prior quarter.
source:
Reuters