Apple to take on the Amazon fire (no, not the tablets)
20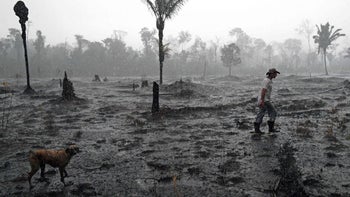 Brazilian farmer Helio Lombardo Do Santos walks through an Amazon rainforest aftermath near Porto Velho, Rondonia state, Brazil, on August 26, 2019. (Carl De Souza/AFP/Getty Images)
Brazil just rejected $20 million in Amazon forest fire fighting aid package that was quickly assembled during the G7 summit in Biarritz, probably because of the feud between the summit's host - the French president - and his Brazilian counterpart that spilled out in the open.
The country might be more open to private donations, though, and Apple's CEO Tim Cook just announced that the company will be donating to fight the fires currently raging through the Amazonian rainforest.
It's devastating to see the fires and destruction ravaging the Amazon rainforest, one of the world's most important ecosystems. Apple will be donating to help preserve its biodiversity and restore the Amazon's indispensable forest across Latin America.

— Tim Cook (@tim_cook) August 26, 2019
Apple's CEO is a renowned nature aficionado, and recently the company
celebrated
the 103rd anniversary of the US National Park Service with an Apple Pay donation program, an Apple Watch Activity Challenge and special content and collections on Apple Music, Apple Podcasts and more.
It's not clear yet what financial outlay will the Amazon fires donation entail but we'll learn soon enough, perhaps with a new press release on Apple's website.