These AirPods 3 renders give us our best look yet at Apple's next earphones
24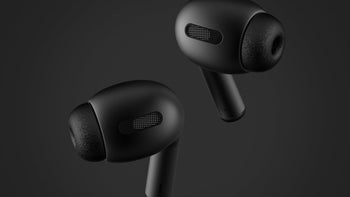 AirPods 3 concept render by Phone Industry
Apple has reportedly been working on a pair of third-generation AirPods since early 2018. If everything goes to plan, the in-ear alternatives could arrive at an event later this month, but if the product isn't quite ready Apple may delay the unveiling until early 2020. Fortunately, we don't have to wait because designer
Phone Industry
has published a bunch of AirPods 3 concept renders based on the
most recent leaks
.
Apple might produce a matte black option

Representing a drastic change in direction for Apple's AirPods line, the new version looks set to adopt a noticeably shorter stem design that shaves off around one-third of its usual length. On the first and second-generation models, this area is home to the battery which means the reduction in size on AirPods 3 could translate into a shorter battery life. A redesigned head which is also significantly larger accompanies this. It's expected to house either Apple's H1 chip that was introduced earlier this year or a newer version that'll presumably be marketed as Apple H2.




Also to be expected are the necessary audio drivers and microphones in addition to an all-new noise cancellation system, which brings us to the next feature. As visualized in these renders, Apple's next-generation AirPods are expected to adopt a new in-ear form factor that utilizes rubber tips which are presumably replaceable with different sizes. This change should allow for better acoustic isolation and ultimately improve the noise cancellation experience.




Rumors suggest AirPods 3 or AirPods Pro – it's unclear what marketing name Apple has chosen – will be available to purchase in black alongside the usual white option. Separate info has also mentioned the possibility of an

iPhone 11

-like matte finish that'll help reduce slipperiness. This, however, is unconfirmed at this stage hence the renders with and without the coating. As you may have noticed, today's AirPods 3 images also envision the product in gold and silver. These probably won't be released but they're certainly nice to look at.
Active noise cancelation and water resistance

Feature-wise, the standout element is expected to be the inclusion of active noise cancelation. Details are limited at the moment but iOS 13 code suggests AirPods 3/Pro will support several different listening modes among which will be a "Focus Mode" that enables noise cancellation.

Another important addition should be that of water resistance, something that isn't present on Apple's current-generation AirPods. This means you won't have to worry about sweat when working out or even something as simple as rain. Additionally, Apple may integrate some sort of heart rate monitor. This feature was originally mentioned in a report published last year but hasn't been referred to much since. Nevertheless, it could still be on the cards for AirPods 3.
Apple AirPods 3 release date and price
A report last month claimed production of AirPods 3 was scheduled to
begin at some point this month
. If true, an announcement in late October alongside an
updated iPad Pro
and a 16-inch MacBook Pro seems extremely likely. Otherwise, we probably won't see Apple's premium pair of wireless earphones until March 2020 at the company's annual event where it'll be accompanied by the
iPhone SE
2.
Pricing details haven't yet leaked but AirPods 3 should be positioned above the existing AirPods model, which will continue to be sold alongside the new version. As a result, a retail price of between $249 and $299 seems extremely likely. The new AirPods will ship alongside a redesigned case that may support
wireless charging
as standard.