Apple's latest keynote proves we still don't know what to do with augmented reality
9
This article may contain personal views and opinion from the author.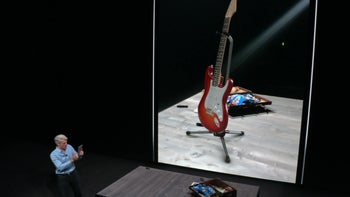 Apple's Craig Federighi during WWDC 2018; a virtual electric guitar sitting on the table next to him.
Apple has been one of the bigger proponents of augmented reality (AR), but the company is still struggling to find a solid reason why the consumer should care about this nascent tech.
As modern virtual reality (VR) started making its baby steps a few years ago, Apple clearly articulated its belief that AR, not VR, will be a staple technology in our future. This vision made perfect sense back then, and it still does. However, I wonder whether Apple isn't at least a little frustrated by the fact that, despite dedicating some serious effort and stage time to it, AR is still struggling to take off.
There hasn't been a single meaningful problem solved by AR so far. The best the technology has had to show thus far are the numerous measuring apps we've seen. At WWDC 2018 earlier this month, Apple software boss, Craig Federighi, again spent part of his presentation to talk about augmented reality and to reveal Apple's latest advances. And again, we saw AR's potential to measure real world objects. That's basically what Apple announced: the application Measure, which is just another AR measurement app, only this time developed by Apple, so it'll probably happen to work a bit better than similar software out there. That's all cool, but we're at least a couple of years into our AR journey so far, and this is what we get: a new measurement app. Not so exciting, eh?
Apple is showing us cool AR tech demos, but we still don't know why we need this stuff
The AR demos at Apple's developer conference also included what may soon become known as "AR shopping". Say you're online-shopping for a new guitar. Let's say you might want to see how said guitar would have looked like in the real environment around you, as if it was already here. Provided the merchant supports the necessary features, you'd be able to visualize the object in the immediate environment, and, at least on your phone's screen, it would appear as if it's right there, in realistic 3D. That indeed sounds like a dandy feature to have, but it's far from essential or must-have. It's hard to get excited about.

The same goes for all the gaming demos Apple's throwing at us. There was a Lego demo where a couple of guys were playing with virtual Lego characters, and also another one that showcased the new "shared AR experiences" feature, where two or three people will be able to see exactly the same AR environment and play in it. Again, all dandy stuff, but in no way better or more convenient that playing the "old-fashioned" way, on your device's screen, without the potential discomfort of moving around nonexistent virtual objects.
Now, there are smarter minds at work at Apple, and when the company sees a big opportunity in something, it probably means opportunity is there. The fact that we're yet to see a compelling AR demo or use case could be a result of the technology not being there yet. What we're seeing with all of these basic AR apps and games, and the development of ARKit, is most probably just Apple laying the groundwork for the future towering business it's going to build with AR. The company has long been rumored to be
working on augmented reality glasses
– a mythological sci-fi gadget that could eventually redefine how to we interact, consume media, or experience the world around us. Or, it could be met with indifference, just like the
HomePod
was.
You can watch the AR portion of WWDC 2018 in the video below: