"Appillionaires" book reveals insider stories of how fickle success is for App Store developers
2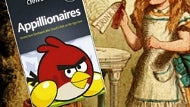 A book by developer Chris Stevens has been making the rounds a couple of months, and is an interesting read for anyone even remotely interested how the Angry Birds or other successful developers made it. The author's motivation for writing the book was:
"There's a huge mythology already surrounding the App Store, and I wanted to get to the bottom of it...
"
Called "Appillionaires: Secrets from Developers Who Struck It Rich on the App Store", the book reveals that success in this cottage industry has been often in the form of lucking it out, and sometimes came after numerous failures and doomed app attempts, no matter how much money, focus groups and resources went into them.
Yet, it turns out as probable for small mom-and-pop shops to become "Appillionaires", as it is for established publishers with budget allocation techniques, marketing studies and so on. The book description entices you to read with the following snippets:
• Meet the submarine commander who programs hit apps in his spare time.
• Meet the two brothers from Croatia who grew up to sell over ten million copies of their homemade iPhone game Doodle Jump.
• Get tips from the husband and wife team from Washington DC who made millions with their 99¢ App, Harbor Master – all based on an idea they came up with on a sailing trip.
• Discover how the journey to Angry Birds almost bankrupted the company that created it. And much, much more...
In short, success with publishing on the App Store is neither guaranteed, nor all that elusive, but once again the theme of luck seemingly runs throughout the book, encouraging those who consider every app possible already done or thought about, to give it a chance.

via TheGuardian