Is Sprint throttling Skype without telling its subscribers? This app suggests it's so
8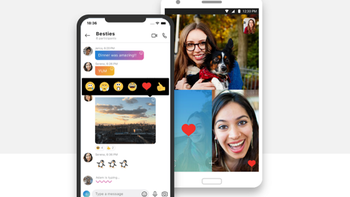 A study that is being conducted by Northeastern University and the University of Massachusetts happens to be the subject of a report in Motherboard. Based on data compiled by the two universities, Sprint is cutting subscriber's data speeds when they use Microsoft's Skype app. And the most devious part of the whole thing is that the nation's fourth largest carrier isn't even alerting its subscribers about the throttling.
David Choffnes, assistant professor of computer and information science at Northeastern has come up with the numbers using the Wehe app that he developed.
Wehe, which we told you about earlier this year
, helps mobile device users discover if some of the apps they use are being throttled by their wireless provider. Now that
net neutrality has been repealed by the FCC
, and its return as legislation in some states is being challenged in court by the FCC, it could be useful to know which apps you use are being streamed in a slow lane by your carrier. Net neutrality required that all streaming content be treated the same by ISPs and wireless operators.
Choffnes discovered after 719,417 tests conducted by 100,000 users across 135 countries, that wireless carriers often throttle streaming content in order to upsell subscribers to pricier monthly plans. While some carriers deny this and claim that throttling only occurs during periods of network congestion, many of these providers throttle video to 480p with an unlimited plan unless customers are willing to pay up for a higher resolution.
The Northeastern assistant professor discovered that between Sprint and its pre-paid Boost Mobile brand, subscribers' use of Skype was throttled 34% of the time between January 18 and October 15. The data also indicated that Sprint's reduction of data speed for Skype has nothing to do with network congestion. And while Skype video calls might appear to be streamed at a lower quality, there is nothing written on any Sprint or Boost documentation that would alert customers to the throttling of Skype video streams.
Before net neutrality was repealed, carriers were allowed to slow down data speeds when their networks were congested, and they had to be transparent about it. While the FCC would prefer that the wireless operators remain transparent, this is something that is now voluntary on the part of the carrier. So Choffnes and other developers are hoping that apps like Wehe can provide crowdsourced data to help show the public which carriers are throttling certain apps.
For its part, Sprint denied throttling Skype when approached by Motherboard.
"Sprint does not single out Skype or any individual content provider in this way. The methodology used by the researchers is unclear and unproven, and there are many factors that may impact results on third-party apps"-Sprint spokesman
Choffnes continues to stand by his findings and remains confident that Sprint customers are having their Skype video streams throttled by the wireless provider.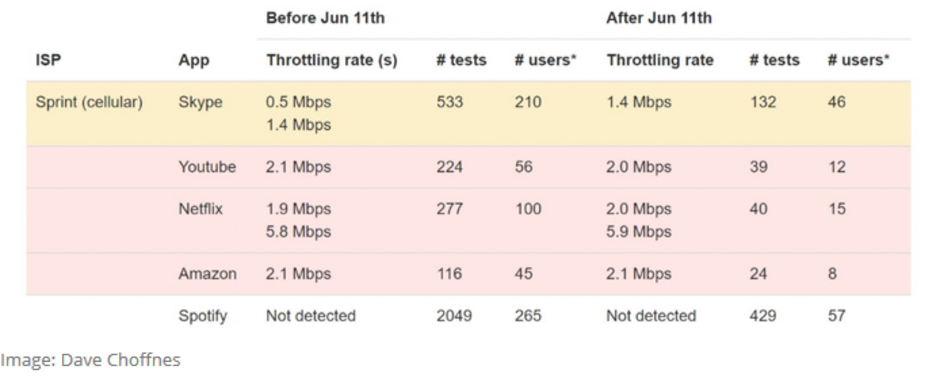 Data from the Wehe app reveals that Sprint is throttling its subscribers' Skype video streams