Apple App Store generated 94% more revenue globally than the Google Play Store during Q3
29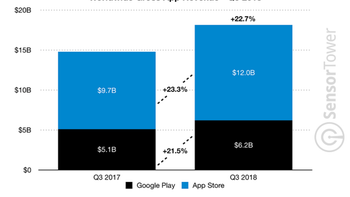 The Apple App Store had a remarkable calendar third quarter, especially compared to the Google Play Store. According to Sensor Tower, from July through September, the App Store took in $12 billion in revenue worldwide. Not only was that up a solid 23.3% from the third quarter of 2017, it was 94% higher than the $6.2 billion that the Google Play Store raked in during the same three month period. For the Play Store, that was a 21.5% increase from the 2017 third quarter gross. Total revenues of $18.2 billion between the two stores resulted in a 22.7% bump from the $14.8 billion they achieved together in the third quarter of 2017.
The number of app downloads on iOS and Android during the third quarter rose 10.9% year-over-year to 27.1 billion globally, up from last year's 24.4 billion installs. Thanks to the increase in low-cost Android device sales in developing countries, app downloads from the Google Play Store totaled 19.5 billion, well above the 7.6 billion apps installed from the App Store.
The top non-game revenue producer across both platforms during Q3 was streaming video app Netflix, followed by dating app Tinder. Streaming Music app Pandora was fifth with YouTube sixth. In terms of non-game downloads, WhatsApp was number one with Messenger second and Facebook third. Instagram placed fifth with Snapchat tenth.
If we look at revenue from games only, the App Store took in $8.5 billion globally, up 12.8% year-over-year. The Google Play Store garnered $5.3 billion, up 18.4% from last year's third quarter. Overall, both stores collected $13.8 billion worldwide from July through September, up 14.9% from the previous year's third quarter game revenues. Game installations rose a slim 2.2% from the 2017 third quarter to the 2018 third quarter. That took the total number of games downloaded from last year's Q3 total of 9.2 billion, to 9.5 billion during the same period this year.
The top game by revenue during the three months was Honor of Kings with Fortnite in 9th place. Based on the number of downloads, Helix Jump was on top.