Another leaked schematic of the iPhone 8: no finger scanner on the back and is that wireless charging?
44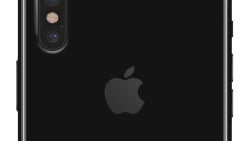 About a week ago, we saw a leak that claimed to showcase the chassis for the upcoming fullscreen
iPhone 8
. The image depicted an aluminum body with a vertical placement of the dual camera module, the signature Apple logo, and a rather questionable spot for the TouchID finger sensor —
on the back
, smack dab in the middle.
Thankfully, since then, we've seen other leaks that seemingly
refute the questionable placement
for the scanner. And, today, we get another one — a purported schematic of the upcoming iPhone, posted by designer and serial leakster Benjamin Geskin.
The schematic reaffirms the vertical camera module but shows no trace of a TouchID scanner on the phone's back. Instead, we see a large circular cutout — one that many speculate may be the place for a wireless charging module.
According to Mr. Geskin, the source for the leak is 95% trustworthy, if that means anything to you. Scrolling through other leaks and speculations that the images have sparked, some say that the new iPhone might have a glass back to accommodate the wireless charging feature, while others say that Apple is working on a pad module for the phone's back, which will allow for the inductive charging, while the rest of the device retains its metal finish.